Viva Las Nuptials! How To Get Married In Vegas Without A Hitch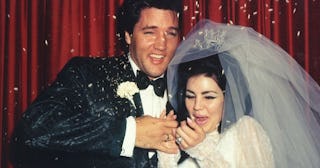 Michael Ochs Archives / Stringer/ Getty
So, you want to get married in Vegas, eh? You're certainly not the first person to be wooed by the electric glow of Sin City's neon lights, and you certainly won't be the last. But if you're going to make a "what happens in Vegas" wedding happen, you'll need to keep a few things in mind. Before you roll the dice on holy matrimony, here's what you need to know.
What are the steps of getting married in Las Vegas?
Well, you'll definitely need someone to marry. Whether you bring them with you or find them during a lucky (in more ways than one) streak at the craps table is totally up to you. Once you've got a lock on that, you'll want to confirm you're eligible. This is fairly simple. Ask yourself if you and your partner are 18 years old or older. If not, you'll need the consent of one parent or legal guardian, and for a court to find that the marriage is in the best interest of the minor (whether that's you or your partner).
Also important to note: You don't have to be Nevada residents. But you do have to prove you aren't any closer in kinship than second cousins, lest you land yourself in jail on incest charges. You can't currently have a living husband or wife, either. Bigamy is a no-go.
If, after all of that, you're still clear, you can proceed to apply for your marriage license, arranging for one witness to the wedding ceremony (although most chapels can provide one), and picking a venue.
What documents do you need to get married in Vegas?
You can't get hitched without a wedding license, which you'll need to apply for up to one year prior to the wedding date (more on how to get the license below). You'll need to bring your marriage license, for starters. You'll also need to bring proof of a social security number, such as a birth certificate or passport, as well as government-issued IDs — the legal names on which must match your marriage license — to the officiant. Most wedding chapels and institutions in Vegas already have authorized officiants, making that an easier route than trying to bring your own. Besides, you're clearly going to Vegas to get married by an Elvis impersonating officiant, right?!
How long does it take to get a marriage license in Las Vegas?
Well, this is slightly dependent on you. If you pre-register, you have within 60 days of that time to pick up your marriage license in person. You can do this at the Clark County Marriage Bureau at 201 E. Clark Ave. in Las Vegas. The Bureau will hook you up with a marriage license daily from 8 a.m. to midnight (even on holidays). And because Nevada has pretty lenient requirements, you can get a license with minimal waiting — especially if you pre-register online.
How much does it cost to get married in Vegas?
The cost to obtain a marriage license is $77. However, the cost of the venue and officiant will vary from place-to-place. The cost to your dignity if you win a jackpot, get drunk, and have a quickie wedding in Vegas you don't remember? Priceless.
Are Vegas weddings legally binding?
As long as the officiant you used possesses a Certificate of Permission to Perform Marriages from the State of Nevada and files a copy of the marriage license, you're golden. Or platinum. Or Triple 7s. Basically, you'll have reached the nuptial version of a jackpot.
Related: How To Ask For Or React To Open Marriage Talk, According To Experts
This article was originally published on