Get Ready for the School Lunch Overhaul, Courtesy of Jamie Oliver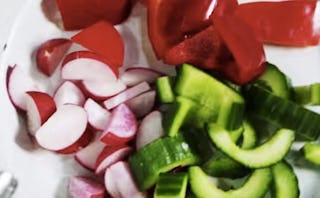 British chef and restaurateur Jamie Oliver is back with his Food Revolution. And I hope parents support his upgraded efforts to make school-lunch programs much, much more palatable.
Back in 2008 I interviewed Oliver, who was then fresh from his success transforming U.K. school lunches. For identical tax dollars, he'd shown politicians how to deliver healthy, delicious fare to students—lunches that weren't deep-fried, microwaved or unrecognizable as edible, like this disgusting fish sandwich recently served at an elementary school in Virginia that just made the Internet rounds, appalling parents everywhere.
He embarked on a mission to improve what he saw as a similar food crisis in U.S. schools. Yet he met resistance at every turn.
In 2011, Oliver hit Los Angeles, where I lived at the time, with his now-defunct ABC reality series Food Revolution. I watched with disappointment as political infighting and vendor-contract turf wars drove him out of town. School administrators literally called the police on Oliver and his team, demanding they abandon efforts to bring fresh ingredients to school lunches in this country—or at least in schools in Southern California.
I'm so pleased to learn Chef Oliver hasn't given up. Last week he launched Food Revolution Day 2015, which promotes his new petition to parents who live in G20 countries—including Argentina, Canada, China, France, Germany, India, South Korea, Turkey, and yes, the United States—urging us to demand that our elected leaders do a better job at providing healthful lunch options for our kids in public schools.
Why? Because our kids' unhealthy diet is risking their health—and everyone's futures. And with many schools allowing students access to vending machines stocked with soft drinks, salty snacks and candy in addition to serving up pizza and French fries every day in the cafeteria, we parents are being undermined with our healthier efforts at home.
Here are some food facts from Oliver's video:
G20 countries are facing more preventable, diet-related illnesses, including stroke and heart disease, than ever before.
Worldwide, there are 42 million children under the age of 5 who are overweight or obese.
Kids as young as 8 are now being diagnosed with Type 2 diabetes, a disease we used to only see in adults age 40 and over.
Today's kids are the first generation predicted to live shorter lives than their parents.
Oliver staunchly believes food education is the most important schooling we can give to our kids. That it's a basic human right, to be taught how to grow and cook fresh, nutritious food at school as part of the curriculum, something Alice Waters has preached through her Edible Garden project for decades. And that by doing so, we can reverse the rise of obesity and disease all around the world.
By educating children about food in a practical, fun and engaging way, we can provide them with the knowledge and skills they so urgently need to lead healthier, happier lives. We need to make practical food education a compulsory part of every school curriculum across the world, and that's why I've launched a petition calling on all G20 countries to action this. With enough support from millions of people around the world, I truly believe that we can create a movement that's powerful enough to make governments take action.
While Food Revolution Day launched on May 15, it's just the beginning. Nearly 1.5 million signatures have already been collected—with the number increasing by the day. If you'd like to sign to support an overhaul of school lunch programs, click here. Then share it with your friends.
This article was originally published on