Why You Should Get Yourself A Group Text
by Cassie Gottula Shaw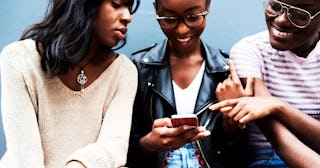 Westend61/Getty
In this stage of life, we train ourselves to just get through. Just get through the morning without spilled coffee, shoe arguments, injuries from couch launches, and baby blowouts. Just get through the day without major meltdowns — the kids' or our own. Just figure out how to get to the end of the week without bursting into tears in front of the preschool teacher or the boss. Then things will calm down. Then we can get our heads on straight. Then we'll start to feel normal again — energetic, decently rested, happy as clams, super fun. Like we used to be. But in the moment, it's all about survival.
Still, a bigger problem with this stage of life is that we don't always have people to survive with — people who get us. And, as I've discovered, friendship is key to getting through this stage with some sanity.
Yet, it's tough to maintain close friendships right now. It's almost impossible to make the schedules line up, when we're drowning in obligations and to-dos. Work is stressful, marriages require time, and kids and other responsibilities keep us constantly moving.
It's even more challenging when our close friends are spread out and far away. So, the truth of it, for many of us, is this: if we're not maintaining our friendships over the phone, we can't maintain them at all. That's why my daily text thread is essential to my well-being.
When you're done reading, I hope you'll feel inspired to go grab some of your favorite women and get their digits locked in.
Here's a peek into the "textship" that's labeled in our phones as "My Girls":
A few years ago, five of my longtime friends met me at an old country church. We drove there separately on rock and dirt roads that we'd once traveled together frequently, back at a point in life when we'd shared stories, laughter, anger, tears, and sing-alongs — every single day. Life had changed, but those roads were the same. And somehow, in spite of the odds and the years and the distance between us, the friendships felt the same, too. Like the old roads, we knew them well.
That church was the site of the first of too many funerals. We sat and cried together. We grabbed a drink after. We cherished the time spent with familiar faces, old stories, and warm hearts.
Over the years, we've been fortunate to share in the happiness, too. And no matter the situation — sitting in solidarity to mourn, clinking glasses at a wedding, welcoming a child, or simply catching up — our rare moments together have proven that our lives are deeply enriched by one another. Inside this group, each one of us belongs.
To know that you truly belong in a friendship, especially a healthy, life-giving friendship, is a marvelous thing, whether your group consists of two people or ten. In fact, it is the must-have relationship for grown-ups that, ironically, many grown-ups don't have.
As soon as we realized that this friendship was crucial to our self-care as 30-somethings, we committed to the decision to be there for each other, even when we can't be there physically.
We started a consistent group text those few years ago, and it's still ongoing today. We reach for our phones (for each other) almost instinctively, always certain that at least one person will be available to listen, to advise, to laugh, to care.
We see each other through it all.
We hold each other through grief.
We support each other during dating and marital growing pains.
We give each other space to be who we are. We appreciate our differences and quirks.
We vent about momhood. A LOT. And we gush over our children just as much.
We often wonder if we're where we are supposed to be in life, why we're doing what we're doing, which steps we need to take next, and why we so often feel like life has hit another frustrating plateau.
We listen, discuss, and learn. We cover everything: faith (which looks like so many different things in our group), updated gender vocabulary, Harry Potter trivia, dreams, medical questions and the accuracy of WebMD, work and home life, tame politics, and the great debates over which celebrities top our lists.
We offer advice. We share dumb jokes, silly memes, and the videos that definitely depict what our friendship will look like when we're old and gray.
We send all the love and all kinds of flowers, and we work hard to lift and nurture.
We laugh hysterically at so many of the memories we've made over the years. We're disappointed in other memories, the ones we'd rather forget (if only we could still hold tight to the lessons). We remind each other that we're sworn to secrecy.
We occasionally come back to our phones —after just a few busy hours at work or with kids — to find that we have 93 unread texts.
We wait miserably on the receiving end, having just been warned of awful news, feeling the panic of the dot dot dot.
We help each other say goodbye to toxicity and to things that no longer fill our buckets or our hearts. With tremendous support, we've moved away, we've taken giant leaps of faith, and we've given notice to virulent jobs and disingenuous friends.
We get frustrated with each other. We get over it.
We're there to discuss the dailies, too: workouts, pregnancy, anxiety, surgeries, setbacks, fears, humiliations, and kid concerns. But the fun still flows, with movie reviews, book recommendations, and photo fashion shows.
We treat each other with kindness, even when we disagree.
Ultimately, we are always eager to pour our hearts into the tough, the messy, and the joy-filled parts of our friends' lives.
We pray for each other. Hard. Like we did when we got this message: "Prayers please. School is on lockdown. Reports of an active shooter." (Praise Jesus — false alarm.)
"Y'all, I need some good vibes. We start marriage counseling today. I feel good about it."
"The doctor found a lump. Probably nothing, but I'm scared. I'll take all the healing thoughts you've got."
Sometimes it's terrifying.
"There's been a terrible accident. I don't have any other information yet. Let you know as soon as I know."
But we share happy and hopeful thoughts, too. And we love to laugh and keep it light.
"So you're on a desert island. Do you take Statham or Momoa?"
"To tell you the truth, I'm very happily self-partnered right now."
It's often uplifting.
"You look like a smokeshow. Honestly, just amazing. You have to wear it."
"Thanks again for being present for me. There aren't a whole lot of things better in life than the support we give each other."
And, of course, an attentive ear is essential.
"I just need a week-long break, on a secluded beach, with a turquoise ocean and a fruity beverage. Or…maybe in a hospital. Seriously. I am just not in a good head space. Okay, rant over. Thanks for listening."
At the end of the day, it's all about the hearts behind our screens, sharing truth and compassion, helping each other navigate our journeys.
And we know, without a doubt, we can count on these words:
"I see you."
"I hear you."
"Know your incredible worth, friend."
"You're strong. And if you need some help, we're behind you. Go get it, girl."
"We're saying prayers."
"We're sending love."
"We're always here."
So get yourself a group text. Make sure someone is always there (even over the phone) to survive with you.
This article was originally published on