My Miscarriage Triggered Emotions That I Never Expected
I knew it would be difficult, but I still wasn't prepared for the reality.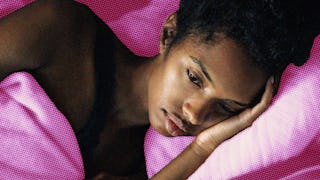 Ariela Basson/Scary Mommy; Stocksy
It was a week after my son's first birthday when I found out I was pregnant with baby number two. After just one cycle of trying I got a positive test and happily settled into another pregnancy. But around the five-week mark, as I braced for the impact of unrelenting nausea, I was shocked to find myself feeling great. No bloat, no sickness, no exhaustion; I had heard about these unicorn women, who experienced wonderful pregnancies (even after really difficult ones), but I never really believed it. But there I was, pregnant and feeling like a million bucks.
It was the night before my eight-week prenatal appointment when I noticed a small steak of blood on a piece of toilet paper during a casual trip to the bathroom. I immediately called my mom, a nurse, who assured me that everything was fine, and reminded me that spotting can be totally normal. I called my OBGYN office and they echoed the same affirmation. But I knew. In my bones, I knew.
I didn't sleep.
I bit off all of my fingernails on my way to the appointment, and soon after the ultrasound began the doctor came in. She told me what I already knew, went over the findings and some choices, but I didn't hear any of it.
The bleeding lasted about ten days. I mostly refused to leave the house, but my mom did drag me to an apple orchard with my son — a traditionally fun fall family activity here in New England. I just remember sobbing in the Porta-Potty, thinking that I was leaving some piece of my baby behind in a dirty portable bathroom in an orchard parking lot. Logically I knew that wasn't true, but there was something somewhere in me that wasn't sure.
I spent months riddled with anxiety and obsessive thoughts. I reached out to every person who I knew had miscarried, hoping they would say something that would magically take away my unexpectedly debilitating sadness. I Googled late into the night, searching for answers and solutions. It was my darkest time, and to be honest, I didn't see it coming. I had always thought miscarriage would be difficult for me, emotionally, but I had no idea how much it would wreck me.
Today, eight years and three additional kids later, the pain is very muted. Instead, it has become a necessary part of my story that allowed me to have my perfectly weird and wild second son. But when I reflect on that time in my life, I remember just how painful it was.
The hurt was so deep that it affected everything. The people in my life at the time who showed support and love, they sealed their spot in my life forever. And those who didn't really hurt me. It took me a long time to work through that. Subsequent pregnancies were riddled with worry — both logical and not — and I needed a lot of support to work through some of the tests and milestone appointments.
So although I know not everyone shares my same experience, I want to offer you validation if you had a miscarriage and it really knocked the wind out of you, emotionally. And if you find yourself supporting someone, just know they might be feeling worse than you think. It's complicated, it's hard, and it's personal — but it's time we talk more about it.
Samm is an ex-lawyer and mom of four who swears a lot. Find her on Instagram @sammbdavidson.