Giant Teddy Bear Perfectly Sums Up Why Grandparents Shouldn't Buy Gifts
by Megan Zander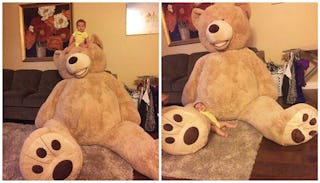 Twitter goes wild for this grandpa who bought his baby granddaughter a giant teddy bear
Grandparents love to spoil their grandkids. Mention in passing to your parents that you want to get the baby some shoes and the next time you see them they'll have five pairs for the baby, each with a matching pair of socks. You can't even joke about wanting to get something for your kids in front of your folks, unless your parents think you're serious and decide to come swooping in to the rescue like super Grands.
Such was the case for Sabrina Gonzalez, and her five-month-old daughter Madeline Jane. Gonzalez made one joke about a giant teddy bear to her dad. You know how grandparents are.
Last week her dad, who works at Costco, posted a photo of himself with some of those ginomous teddy bears that turn up in the store each holiday season. You know, the ones you always wanted as a kid but your parents never let you have? Gonzalez joked that baby Madeline needed one. So obviously, that was Grandpa's cue to buy one, STAT.
The next thing Gonzalez knew, her dad texted her to say he had bought Madeline one of the bears, and sent a picture of him getting the bear into his truck as proof.
Before she could say You have got to be kidding me, Gonzalez had a bear in her living room that was larger than her couch, and the cutest picture ever of a baby on a bear mountain.
While it takes up a ton of space and will be a pain to vacuum around, under, and on — you can't get mad at a granddad for wanting to do something cool for his baby granddaughter. She'll remember this bear forever. Look how happy she is. Pure bear bliss.
Gonzalez shared photos of Madeline and her new friend on Twitter, where people wasted no time talking about how much they wanted a giant bear of their own to snuggle up with. The tweets have been retweeted over 38,000 times, because Madeline and her bear are #relationshipgoals.
The bear, who Gonzalez is waiting to name until Madeline is old enough to talk and can pick a special name of her own, is just as soft as you'd imagine. Gonzalez told Scary Mommy that even she can't resist its fluffiness. "I have definitely snuggled on the bear," she said. "It's impossible not to!"
Gonzalez isn't sure where the giant bear fits in the house right now with Madeline being so young, so he's currently being stored somewhere safe.
Grandpa's house.
This article was originally published on