These Are The Gift Sets Everyone Wants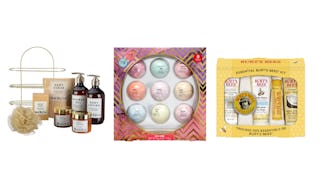 Walmart
There's just something about a great gift set that makes people happy. Maybe it's because it's not just one gift, it's an assortment of gifts! Here are a few amazing gift sets for all the people in your life. (Or maybe just for you!)
I'm sorry, did you say luxury bath? Yes, we'll take two please.
Get him a great razor to keep his face smooth, then steal it to shave your legs. It's win-win!
Instant Mani? You bet!
Don't have time for a spa facial? It's cool, you can do it at home with this kit. Add in a glass of wine and Netflix and you've got the makings of an amazing night.
Lock the bathroom door, and use this bath and body set to live your best life. You're welcome.
If this gift set from Old Spice doesn't give him a little swagger, at least he'll be smelling fresh.
Name one person who doesn't want this Golden Girls gift set. We'll wait.
It's natural, and it smells good. Sign us up. And then grab one for yourself and a friend.
There are two types of people: those who love bath bombs, and those who've obviously never tried them.
I'm not saying Christian Grey uses this, but I'm not saying he doesn't.
No thanks, I don't like delicious snacks and happiness, said no one ever.
See, we told you. Gift sets are the best. Grab your favorites, and share with all the people you love. (Maybe even a few you just like.)
We are a participant in the Walmart.com Affiliate Program and may earn fees by linking to Walmart.com and affiliated sites.
This article was originally published on