10 Gifts For The Teen Who Hates Everything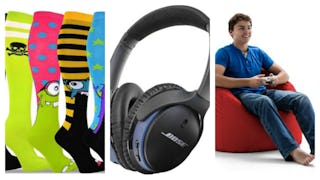 WALMART.COM
You love your teenagers but you are sick of their crap and how they deem everything "dumb." We feel ya, we've been there.
But we also know they need gifts this year too. Scary Mommy can help with these gifts for your teen — even a teen who literally hates all the things.
They won't outgrow this game until they are 30, so it's a safe bet to get it and let them go to town.
We've all seen our teens tune us out by using with their earbuds or headphones for hours, so why not get them a pair that will really get the job done? We love these wireless Bose headphones.
Every teenager loves to hide in their hoodie. You can't go wrong with this basic pullover style — the only problem might be removing it from their body so it can be washed.
For your teen's morning juice, hot chocolate, tea, or coffee, this mug will let you know where you aren't allowed to talk to them.
Slouchy beanies are all the rage and we love this textured hat and so will your teens. The only problem they may have is when you want to steal it.
They will love spending hours in this bean bag chair gaming, texting, and doing homework. And when you get tired of looking at them doing said things, you can tell them to take their chair to their room.
Now you might think a gratitude journal is a stretch, but this just might help your grumpy teen to open their eyes and start thanking their lucky stars for such an amazing life.
Your child's name on a necklace is always a beautiful gift to give. Even if it gets shoved in the back of their sock drawer, they are sure to love it one day.
Who doesn't love a fun collection of novelty socks? This set comes with 5 pairs and your teen might even crack a smile when they pull them on.
This will be their favorite gift this year. The Google Home is like having their own assistant and they don't even have to talk to it in a respectful manner.
We don't know if these things will knock your kid out of their moody teenage phase for long, but we guarantee they will help.
We are a participant in the Walmart.com Affiliate Program and may earn fees by linking to Walmart.com and affiliated sites.
This article was originally published on