The Scary Mommy Shop Mother's Day Gift Guide: Gifts For Your Mom Squad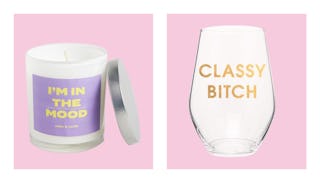 Your mom tribe kicks ass, so show them some love this year
Mother's Day comes once a year, but we think celebrating motherhood should really be a 365 day thing. And though your own mother might have been the one that taught you to look both ways before you cross the street and eat your vegetables, nowadays you're probably surrounded by many other moms who inspire, influence, and appreciate you.
Show them all a little love this Mother's Day, because we know being a mom is the hardest job in the world. And everyone in your mom squad is owning it.
Gifts For Moms Who Run The World
Ain't no mom got time for sass. Grab this t-shirt for your mom friend who can put an edge in her voice so sharp, it draws blood. No wonder she's got the best behaved kids in the neighborhood.
Know a working mom (inside the home or out) who measures her value with confidence, grit, and determination? Help her start the day with this inspiring mug and then get out of her way, because she's kicking ass and taking names.
The key to her spirit might come from within but she'll appreciate wearing a word of wisdom around her neck too. Available in gold, silver, or brass, this key can be customized with powerful phrases: "MOM AF," "FEARLESS," "STRENGTH," "LOVE," or "INSPIRE."
Gifts For Moms Who Want A Break
Whether she's trying to "nap when the baby naps" (ha, like that ever works) or just needs a time-out for herself, this soft plush eyemask will help her shut out the world and get the rest she needs. Even if it's only five minutes at a time.
This tongue-in-cheek candle might require a second look, but once she gets it, your mom friend will use it as her "do not disturb" sign on a regular basis to ward off kids or spouses. The earthy scent of cedar, pine, and vanilla coupled with some lovely privacy will create her own virtual "cabin in the woods me-time" fantasy.
Know a mom who needs a daily reminder to stop quadruple-tasking? Consider this motivational mug her new morning mantra. Help her remember that no matter what's making her nerves stand on end, this too shall pass.
Gifts For Moms Who Keep It Real
Know a mom who'd rather be queen of the shitshow than a pauper in paradise? She'll appreciate the sentiment on this acrylic keychain every time she unlocks the door to her own personal circus of a household.
Elevate her mommy happy hours with a wine glass that practically demands to be held with a pinky aloft. No more plastic tumblers full of chardonnay for this classy bitch! It's champagne wishes and caviar dreams from now on, Mama!
Perfect for the mom that doesn't pull any punches, this art print proudly advertises to guests and neighbors exactly what they are getting into when they cross her family's threshold. Love it or leave it and don't let the door hit you on the way out.
This article was originally published on