If You Have A Gamer In Your Life, You Need To Check Out These Gift Ideas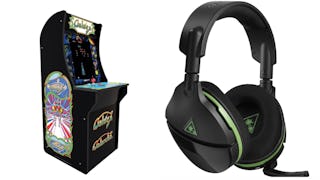 Images via Walmart
This list will have the gamers in your life smiling from ear to ear
If you have a tween or teen who's into gaming, you know they are into gaming. You can tell because if they're being asked to participate in what I like to call FFT (Forced Family Time), it's the only time their eyes aren't permanently attached to a screen. And since it's the holidays and you're scrambling for gift ideas like the rest of us, why not give them something they'll actually use and appreciate?
Put some of these items in your shopping cart, all found at Walmart, and boom — holiday shopping for the gamer in your life is complete.
Though there are similar sets for other gaming systems, this Turtle Beach wireless set for Xbox comes 100 percent approved by my Fortnite-obsessed 13-year-old and debuts Microsoft's Xbox wireless direct-to-console technology. Though you'll still be forced to listen to your kid screaming at the top of their lungs unless you buy a set for yourself, your gamer's sure to appreciate the technology.
This bottle provides 21 fluid ounces of hydration, so you can feel good knowing your kids aren't going to pass out from dehydration while spending hours in pursuit of a Victory Royale. Sure, they may want faster WiFI, but they're getting this water bottle instead.
I've been told this is the gift for gaming lovers. I've also been told everyone but my son apparently has this, and that he doesn't want it, he needs it. After reading up on the specs, I may need one, too. The chair comes in red or yellow options, has built-in lumbar support and footrest for "a customized seating experience." It can also be lowered down to a full 180 degrees so your kid can game/nap/game/nap to their heart's content.
If your gamer is also a sports' fan, they're going to want to get their hands on Madden 19. It has Real Player Motion, which transforms the way Madden is played, delivering "game-changing control and precision on the field" and also makes the game itself even more realistic. It's a classic for a reason.
Kick it all the way back and get your kids into the games you loved as a child with these Ramrage mini arcade games. They've got Donkey Kong, Ms. Pac-Man, Q*bert, Frogger, and many others which will have you fighting your kids for time on it. With price tags all under $20, you may just be able to pick one up for yourself.
Once your kids have the hang of classic video games on the mini version, it's time to upgrade. These four foot Arcade1Up games will turn any play room or basement into an arcade. With "immersive full-color hi-res displays and sounds, and combined with original joystick and control buttons setup, you are looking at endless hours of gaming."
So, apparently one gaming console isn't enough when you play with your friends, so your child must bring theirs over to their friends' houses. At least that's how it goes in my home. And since my kid usually shoves his Xbox into a flimsy string bag, this Travel Case Bag seems like the perfect gift.
This handy gadget allows your gamer to turn their Android smartphone or tablet into a "mobile gaming system." The design and buttons are similar to a legit console controller, which allows for way more control than just touching the screen. Bonus? It pairs with your mobile device using Bluetooth and charges your phone or tablet while you play.
If you're thinking of getting your kids an Xbox this holiday, you know these puppies aren't cheap. Walmart's selling the Xbox One S this year and giving buyers a chance to bundle with a full-game download of Minecraft, plus 1,000 MINECOINS. But the best news, it's on sale now through Nov. 26th for $199. That's a full $100 off. Santa's making it rain over here!
This gaming mouse is only for the very serious gamer in your life, but it pretty much promises the world. It boasts "unsurpassable accuracy" and customizable lighting for the thumb grid and scroll wheel. We have no idea what most of this means, but it sounds like it will make gaming on a computer totally seamless.
If you have a Pokemon-obsessed child, this Lets Go, Pikachu! game is the one for you — and it comes with a Poke Ball Plus accessory. "Use a gentle throwing motion to catch Pokemon in the wild with either one Joy-Con controller or the new Poke Ball Plus accessory, which will light up, vibrate, and make sounds to bring your adventure to life," the description says. Sounds like a fun time will be had by all.
We are a participant in the Walmart.com Affiliate Program and may earn fees by linking to Walmart.com and affiliated sites.
This article was originally published on