Gigi Hadid Asks Paparazzi & Fans To Blur Her Baby's Face In Pics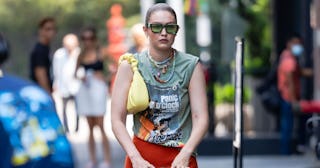 Gotham/GC Images/Getty
Model Gigi Hadid is speaking out about her wish to not have her infant daughter's face shown by the media
Gigi Hadid and Zayn Malik are new parents to daughter Khai, born last September. Though the couple have shared some images of their child on their own social media accounts, they've made a point to never show her face — which is why Hadid is asking paparazzi and fans to do the same.
In a note she posted to her social media accounts, Hadid respectfully asked that photographers abide by her request to blur her infant's face in photos where she happens to appear. Hadid understands that she's a public figure but is stressing to the public that her daughter hasn't chosen that kind of life yet.
"As our baby grows up we have to realize that we can't protect her from everything the way we wanted to and could when she was smaller," Hadid writes. "She loves seeing the world! And although she gets a lot of that out near the farm, she also gets to experience new places — a true blessing."
Hadid explains that on a recent trip to NYC, her daughter was not wanting to be covered up. "She doesn't understand why she's covered in the city or what I've wanted to protect her from. I also want her to see the most amazing city in the world — the beautiful and diverse people that walk down the streets of NYC … that is, without the stress of the media circus that comes with parents who are public figures."
The new mom cited the fact that not even Khai's own parents have elected to show her face in photos. "You know we have never intentionally shared our daughter's face on social media. Our wish is that she can choose how to share herself to the world when she comes of age and that she can live as normal a childhood as possible, without worrying about a public image that she has not chosen," Hadid shares. "It would mean the world to us, as we take our daughter to see and explore NYC and the world, if you would PLEASE PLEASE PLEASE blur her face out of the images if and when she is caught on camera. I know it's an extra effort, but as a new mom, I just want the best for my baby, as all parents do."
Hadid is one of several celeb moms who have spoken out about their desire to keep their children out of the public eye — no matter how famous their parents happen to be. Kristin Bell and Dax Shepard make a habit of never showing their daughters' faces on their social accounts. Sophie Turner recently took to Instagram Stories to issue a strongly-worded request to paparazzi to stop taking photos of her baby daughter Willa. "I'm sickened, I'm disgusted and I'm respectfully asking everyone to stop following us around and stop trying to take pictures of our daughter and especially printing them," she said at the time, adding that photographers "do not have my permission" to take photos of the baby.
Blake Lively and Ryan Reynolds are friends with Hadid and also make a point to keep their three young daughters almost entirely out of the public eye. In fact, Hadid told Vogue recently that the famous couple inspired her to keep Khai's face out of the media, too. "I have friends who are public figures and that's how they've gone about it, and I see their kids really blossom in a different way," she explained, naming Reynolds and Lively. In response, Blake tells the mag: "I told her you have to do what works for you. Gigi has a really special relationship with her fans, and I love how open she is on social media. I love seeing into her world. I'm grateful for what she shares but also understand whatever boundaries she chooses to set."
Hadid ended her plea to paparazzi by thanking the photogs who have respected the young family's boundaries when they're out in public — and reiterating her very valid reasons for wanting to keep photogs at bay. "For a child, I can imagine that close or dramatic paparazzi frenzies must be overwhelming and disorienting … it still is as an adult that understands and deals with it often," she shared. "I appreciate you taking the time to read this and hope you can understand where I'm coming from."