Gigi Hadid & Zayn Malik Break Up Over Alleged Family Fight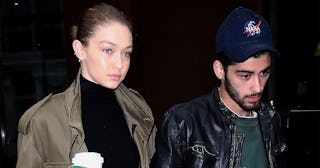 Broadimage/Shutterstock
After rumors swirled that Zayn Malik had had a violent, physical fight with Gigi Hadid's mom, sources say the two have broken up
This might be the end of one of the greatest millennial power couples there is. People magazine reports that multiple sources have confirmed that Gigi Hadid and Zayn Malik have broken up after a contentious few days of shocking rumors about their family.
A Hadid family friend told People, "They are not together right now. They are both good parents though. They co-parent. Yolanda is of course very protective of Gigi. She wants the best for her daughter and grandchild."
And Hadid's rep seemed to confirm the news by giving a statement that the supermodel's top priority right now is her daughter.
"Gigi is solely focused on the best for Khai. She asks for privacy during this time," they said.
Malik and Hadid have been together, off and on, since around 2015. They were first confirmed to be dating after Hadid appeared in Malik's music video for "Pillow Talk." They've broken up a few times, but always seem to find their way back to one another. Last year, they announced Hadid's pregnancy after keeping it secret during lockdown. They share 13-month-old daughter Khai together.
It's been a wild week of rumors for the couple. Multiple news outlets have posted stories about an allegedly violent fight that occurred between Malik and Hadid's mom, Yolanda Hadid. Earlier this week, TMZ posted a story saying that Yolanda was considering pressing charges after Malik "shoved" her. In a statement to TMZ, Malik "adamantly" denied what he said were "false allegations."
Malik also released a statement on Twitter. In it, he referenced an "argument" with "a family member of [his] partner's," saying he wanted to create "a place where private family matters aren't thrown on the world stage for all to poke and pick apart," and adding that whatever happened, he's still not talking about it, because it "was and still should be a private matter."
"I am hopeful though for healing for all involved with the harsh words shared and more importantly I remain vigilant to protect Khai and give her the privacy she deserves," Malik wrote.
So far, Gigi has been silent on social media, and hasn't released any statements beyond the short one from her rep asking for privacy. Her mom, Yolanda, also hasn't made any public statements since this news broke.