Gillette's New Ad Features A Father Teaching His Transgender Son To Shave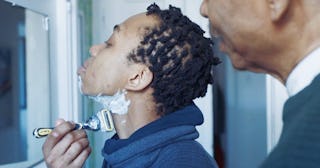 Gillette/Facebook
Gillette doubles down on inclusivity with fantastic new ad about a son's first shave
Four months after Gillette deeply angered the men's rights population with their ad decrying toxic masculinity, the razor company is back to being woke. They've doubled down on their commitment to diversity and inclusivity, and we are here for it.
In a new one-minute ad, which they quietly dropped on Facebook last week, a young transgender man named Samson Brown is taught to shave for the first time by his dad.
"Growing up, I was always trying to figure out what kind of a man I wanted become, and I'm still trying to figure out what kind of man I want to become," he says to the camera at the beginning of the spot. "I always knew I was different. I didn't know that there was a term for the type of person that I was."
"I went into my transition just wanting to be happy," he says, with his dad in the background, a supportive arm curved around the back of the couch they share. "I'm glad that I'm at the point where I'm able to shave."
Then it's time to shave.
"Now, don't be scared," Samson's dad says, watching his son. "Shaving is about being confident. You are doing fine!"
"I'm at the point in my manhood where I'm actually happy," Samson says. "It's not just myself transitioning, it's everybody around me transitioning."
The the tagline appears on the screen: "Whenever, wherever, however it happens, your first shave is special."
At least we think that's what it said, but it was hard to read through a veil of tears.
Samson commented on the Facebook video, part of the brand's #MyBestSelf campaign, with a sweet message – and thousands of comments followed, the majority also thankful and positive.
"Thank you so much Gillette for allowing me to share such an important moment in a man's life with my father," Samson commented on Facebook. "I look forward to the great things you're going to continue doing to encourage us all to be our best selves. Love y'all greatly!"
This ad is very in line with the ad about toxic masculinity that the company released in January, to an uproar. Wholesome and pure, it's the opposite of toxic, and it showcases not only a trans person, but an African-American family. It's obviously a continuation of the brand's "the best men can be" social responsibility campaign that kicked off 2019 – a campaign that will donate $3 million over three years to non-profits working toward social justice for all.
At the same time, it's clear that Gillette, and parent company Proctor & Gamble, did a few things differently this time around. For starters, instead of taking toxic masculinity head on (which we're glad they did), they took a more personal angle this time, focusing on one person and one experience. They also didn't post the video on YouTube or on Twitter, where their last ad was bullied by throngs of aggressive conservative men ganging up on the company. Instead, the Facebook launch and media coverage led to a viral video without so much outcry from baby-males.
People are loving the ad:
We're not sure what we love more: that the ad is so lovely, or that Gillette doubled down on caring about all men, and on making the world better for everyone.
Of course, some close-minded trolls found a way to show off their ignorance and hate, too.
And yes, the consistently hateful Tomi Lahren weighed in with her bullying thoughts, too.
And this all comes in the same week where the Trump Administration rolled back trans healthcare rights, while the world crashes down around us. The commercial might not be much in the face of so much discrimination and hate toward the trans community, but it's something. And we like seeing Gillette continue to fight, even after the bullying they took this winter. That's manly if anything is.