11 Girl Coloring Pages That'll Unleash Your Inner 'Girl Power'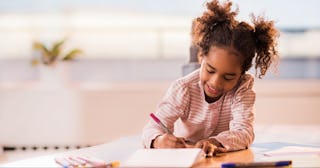 skynesher/Getty Images
No two girls are exactly alike, and that's one of the myriad reasons they make them some of the best artistic subjects. Is there anything in this world that inspires the imagination more than the wonder of a girl? As a parent, you probably marvel over your daughter every single day. Of course you do! Girls around the globe capture so many beautiful facets of human nature: strength, intelligence, resilience, courage, whimsy, kindness of spirit. The list goes on and on. So, why not honor yours by asking her to join you in bringing to life our collection of girl coloring pages? Ask your son, too. Feminism, like these coloring pages, isn't just for girls.
Many of the most iconic portraits and paintings of the Golden Age included strong women in some form. The same is true today — plenty of art focuses on females. The following pages may not stand up to the Mona Lisa, but they're a great way to remind your daughter that there's magic inherent in being a girl. Plus, they're a great way to introduce your children to some of the most famous female artists. This easy DIY activity may even merit a trip to the art museum to learn more about other women in art.
With that said, we won't hold you up any longer. Here are 10 incredible girl coloring pages to share with your kids. And once you finish them, feel free to move on over to our collection of coloring pages for teenage girls, VSCO coloring pages, and aesthetic coloring pages.
Free Printable Girl Coloring Pages
Girl No. 1
Oh, girl! This coloring page channels a lot of middle-school energy. We suspect your kid will find it to be extra fun since it includes a bunch of accessories. The white space also offers an excellent opportunity for your favorite girl (or boy) to add in some of their favorite objects.
Girl No. 2
This coloring page resembles something you might see in a piece of art during your aforementioned museum trip. Not only is this girl stunning, but she's truly one with nature. Have fun carefully coloring in the leaves and sweet birds that surround her.
Girl No. 3
What's a girl without her girl gang? Coloring in multiple girls gives you the chance to make them coordinate or look completely unique. Plus, there's a cat, which obviously adds to the fun. Did you know little girls usually know more words than boys by 16 months old?
Girl No. 4
Girls are made of happiness, love, and tea. Well, maybe not — but those are all pretty important. Have fun coloring the polka-dot skirt in this drawing. A deep pink will make it stand out and look like something you, yourself, would want to wear. Fun fact: Girls have better hearing than their male counterparts. According to studies, their ears are more sensitive to speech patterns. This allows them to better understand what's being said.
Girl No. 5
Use this page as a perfect opportunity to ask your child if they have a best friend in their life. Friendship is such a vital part of being a girl, and it's always a fantastic feeling to have someone you care about in your corner. Did you know a 20-second hug and 10 minutes of hand-holding from a friend can reduce stress hormones?
Girl No. 6
Bust out your colored pencil box and make a night out of coloring this page. There are so many exciting elements to color, from the girl's incredibly gorgeous hair to the lollipop she's holding. If you're a fan of flowers, this may be your favorite out of the girl coloring pages thus far.
Girl No. 7
This is one of the most carefree coloring pages, making it a breath of fresh air to color — especially if you want to go nontraditional and color the girl's hair in a pastel shade. It's hard not to want to get outside after coloring this page since it's a light-hearted reminder of how much life surrounds us.
Girl No. 8
When was the last time you roller skated? Did you happen to have a posse of butterflies guiding you along? A budding artist can enhance this page by drawing a sidewalk or street into the picture. After all, this rad girl needs somewhere super-cool to skate.
Girl No. 9
Sure, dogs may be a man's best friend, but cats are pretty amazing as well. You can try a soft gray for both the girl's dress and the cat to make them look more like soulmates. Or perhaps you can mix it up and color the cat in blue or purple, making this page a more fantastical experience.
Girl No. 10
Speaking of cats, here they are again! And they seem to genuinely enjoy the company of these girls. Have fun coloring the raindrops and sugar cubes that adds a bit more spunk to this page.
Girl No. 11
This coloring page may inspire your little girl to join karate. Fun fact: Kara means empty, and te means hand. This is because karate is meant to be hand-to-hand combat that doesn't include any weapons. Can you guess how long it takes to become a black belt? Everyone learns differently, but the journey is usually about three to seven years!
Click here to print all of the girl coloring pages at once!
This article was originally published on