6-Year-Old Girl Dies After Little Brother Accidentally Shoots Her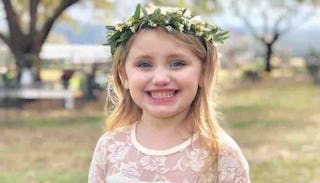 Image via GoFundMe
The gun was unsecured in the console of the family's car
A 6-year-old girl was the victim of a tragic shooting accident this week in Georgia. Her 4-year-old brother accidentally shot her in the head just outside their family home, with a gun he found in the console of the family car.
The little girl, Millie Drew Kelly, was standing in the driveway of her home with her little brother as they waited to go to the boy's baseball game. When the car failed to start, their mother got out of the car and tried to determine what the problem was. During that time, authorities say the boy got a hold of the gun inside the car, accidentally firing it and shooting his sister in the head.
According to CNN, emergency responders were called and took the little girl to an Atlanta hospital. She died in the hospital two days later. On a GoFundMe page set up for her family, Millie donated her organs. "Millie Drew gave life today by donating her organs to continue to show the love of Jesus, whom she loved with everything that she had," the page says.
In the United States, eight children are killed by accidental gunfire every single day. A new campaign, End Family Fire, seeks to put the onus on gun owners to properly secure their weapons — the same weapons most people own to help keep their family safe.
A study based on date from 2012 to 2014 suggests that 5,790 children, on average every year, receive medical treatment in an emergency room for gun-related injuries. About 21% of those injuries are unintentional — from tragic accidents just like this one.
Approximately 73 children under the age of 12 were killed in accidental shootings in the United States last year. Those victims all died under similar circumstances involving a loaded gun and moments of being unsupervised, according to USA Today.
"It's just a really sad situation," sheriff's Sgt. Ashley Henson tells CNN. "Just based on all the evidence and the entire situation, we felt like charges were not warranted in this particular case."
The GoFundMe remains open to help Millie's family in their time of need. "Though her injuries were ultimately fatal, it's to God's glory that she is with Jesus now," the page says. "This fund has been established so all people have a way to bless this precious family when they need it most."
Another local officer, Sheriff Gary Gulledge, says that all the officers in the area are brokenhearted for Millie's family. "We want to remind everyone to keep their firearms unloaded and secured in an area away from children to ensure that this never happens again," Gulledge said in a news release.