Photo Of Little Girl And Soccer Referee Goes Viral For The Best Reason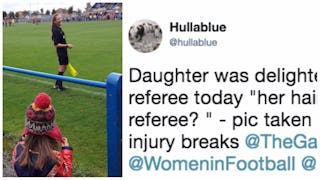 Image via Twitter
This little girl had her day made when she saw a referee at a soccer match
Who would have thought a referee at a football game would be the real star of the show? Four-year-old Clara Walker had her entire day made by the appearance of a female ref at a soccer match in England yesterday.
Most referees take the brunt of game-goers' frustrations, but young Clara was ecstatic about one referee in particular while she cheered on the Garforth Town Association Football Club along with her dad and baby brother.
Why? Because the ref is a girl. Just like Clara.
Nathan Walker tweeted this photo of his daughter admiring referee Melissa Burgin at the soccer match. "Her hair is like mine, can I be a referee?" Clara asked her dad during the game. Cue all the sobbing emojis.
Just further proof that representation matters so very much to marginalized groups. We all benefit so much from seeing ourselves represented in sports, on TV, in movies, in books, and in politics.
"She normally says the referees are her favorites as black is her favorite color," Nathan says. "But they really were yesterday as it was the first time she had noticed a women official."
The reaction on Twitter notable, as this dad's tweet about his little girl's love for the game and all things referee quickly went viral.
https://twitter.com/jetpack/status/919490696045883392
https://twitter.com/jetpack/status/919449682870489088
Clara even got a shout-out from another referee in the game, because #GirlPower:
https://twitter.com/jetpack/status/919483931791159298
https://twitter.com/jetpack/status/919565791292542976
Seemingly little moments and experiences like these truly help to empower future generations of women all over the world to be whatever they want to be.