7-Year-Old Finds $100 Scratch-Off Ticket And Spends It On Feeding People
by Mike Julianelle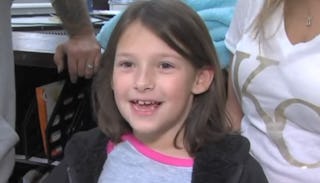 Image via YouTube
Little girl pays her luck forward by using winning scratch-ticket to help those in need
In a moment sure to make you thankful for big-hearted children everywhere, a little girl used the $100 she gained from finding a winning scratch-off ticket to help the needy.
The second grader stumbled upon the lucky ticket while running errands with her mom in Independence, Missouri, but rather than use it to buy herself ice cream or maybe half of a Hatchimal, she decided to help someone.
A story from KHSB out of Kansas City details how Phoebe Brown discovered the winning lottery ticket and exactly what she did with it.
Phoebe's mom, Audrey Brown, initially didn't realize what her daughter had found. "I stepped over a lottery ticket. She sees it and grabs it up and says 'mom, mom it's a winner.' And I'm like 'no it's not.,'" said Audrey.
But it was. A one-hundred dollar winner, to be exact. And Phoebe new exactly how she wanted to spend it.
"That day a flier came in from the school to help with … canned goods and nonperishable items and she said, 'mom, mom, can we do that?' And I was like, 'yeah,'" her mom explained. And that's not all, as Phoebe's father, Joshua Brown, pledged to match whatever his daughter chose to spend and give it all to Sycamore Elementary School's Thanksgiving food drive.
Audrey and Joshua couldn't be more proud of their daughter, obviously. "You wonder, if our kids these days, if that's how they're thinking and this just goes to show ya they are thinking that. and that's a real good thing," he said.
He's right, you do wonder if that's how kids are thinking. Because despite how hard we try to instill those kinds of values in our children, kids will be kids, and it's not always their better angels that drive their behavior. Phoebe herself admitted that she'd briefly considered buying herself some toys, but ultimately the spirit of generosity – and a little Thanksgiving magic – led her to make the decision to donate her winnings.
Phoebe's dad knows just how meaningful such a gesture is, whether it's by a 7-year-old or not.
"There have been times where I've been out of work, and we had nowhere to stay and our family's taken us in, and helped us out," he told WDAF. "We're thankful for our friends and our family."
I would be too, especially if I had a daughter as kind and generous as Phoebe.
This article was originally published on