Woman Kicked Out Of Mall For Dressing Appropriately For Hot Weather
by Julie Scagell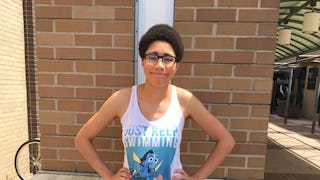 Hannah Pewee is dressed for summer, because it is summer
A Grand Rapids, Michigan, woman is understandably on fire because of an incident at her local mall over the weekend. Hannah Pewee said she was out for a day of shopping with her sister and all was going well until she was approached by mall security and asked to leave immediately. The reason? She was wearing shorts and a tank top.
Yep, you read that right.
"As many of you know, it is NINETY degrees outside today in West Michigan. Aka, really hot. So, of course, I decided to dress for the weather: shorts and a tank top," Pewee begins in a Facebook post on Saturday. "But apparently, how I was dressed (see photo below) was too slutty for the public, as I was kicked out of the Woodland Mall today."
Apparently an anonymous shopper who hates joy and will only have sex with all the lights off while wearing a snowmobile suit decided to report her to mall security because they did not appreciate what she was wearing. Fine, we made that part up but it's probably fairly accurate. "Never mind that within a one foot radius there were plenty of girls dressed just like me, since it's NINETY degrees outside," Pewee continued.
"I am so angry right now I'm shaking. I felt so embarrassed I almost cried. All because a stranger didn't like how I dressed."
Michigan's Woodland Mall has a code of conduct listed on their website which says that "appropriate attire, including shirts and shoes, is required. Clothing with inappropriate words, phrases or graphics is not permitted and is subject to mall management approval. Excluding attire worn in accord with religious practice, tradition or significance, deliberately obscuring the face is prohibited."
She's wearing a Finding Dory shirt. The only thing "inappropriate" about Dory is her choice in whiny friends (sorry Nemo), but that's certainly no crime.
Pewee went on to say, "The Woodland Mall should be ashamed of themselves, as well as that anonymous complainer. It's my body, and it's hot outside! I'm not going to show up in jeans and a sweater, sorry. Don't like it? Look away!"
Pewee is a gorgeous woman dressed appropriately for summer. End of story.
Pewee noted in a second Facebook post that she'd spoken with someone in management from Woodland Mall and that they'd apologized. "Apparently they're going to revise their clothing policy on their website so it is clearer what is and isn't acceptable. In addition, security will be discussing how to properly handle situations like this," she writes.
"Slut-shaming how girls are dressed is deplorable and outdated, and it needs to stop."