20 Girl Names That Were Originally More Popular For Boys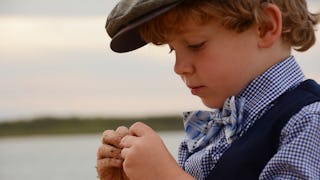 E+/Getty Images
Sometime in the mid-'80s, my mother delivered a piece of groundbreaking news in the form of an offhanded comment about a man she knew named Stacy. I distinctly recall the shock I felt.
"Boys can be named Stacy?" I gasped, and my mom laughed at my surprise. But it was true – all the people I knew with that name (and it was the '80s, when Stacy was in the top 100 girls' names, so I knew several) were female. There was a Stacy who lived down the street. A Stacy at my school. My "Hot Looks Model" doll, with her fashionable red jumpsuit and yellow sandals, was named Stacey. And of course there was Stacey McGill, my favorite character in The Baby-Sitters Club series.
In my mind, Stacy was a girls' name. Period.
Apparently, though, it wasn't always so. The name is said to be derived from the Greek male name Eustace, and was used exclusively for men until it fell out of favor around the 16th century. When it re-emerged in the mid-20th century, it rose to popularity as a female name instead. And now, it's hard to imagine that a male was ever named Stacy (but I mean, if you're a dude named Stacy, no offense).
I ran into something similar when I was pregnant with my second son. When people would ask me if I had a name picked out yet, I'd tell them "Yes, it's Cameron" – to which they would immediately respond, "Oh, so you're having a girl!"
I'm assuming everyone was thinking of actress Cameron Diaz, who had done 11 movies in the decade my son was born (and more before that), so it's understandable. But even though Cameron is still more popular for boys (#60 for males vs. #535 for girls with this spelling at last official count), my son still runs into a lot of girls with his name, and it makes me wonder if his name will be the "Stacy" of the future.
Right now, Cameron falls into the "unisex names" category, and there are plenty of other great ones: Jordan, Sage, Kendall, Reese, and Avery, just to name a (very) few. But what of the names that began as male names and are now almost exclusively used for girls? Several of them were surprising.
(All data comes from the Social Security Administration for the top 1,000 most popular male names from 1900-present.)
Allison – peaked as a male name in 1903 at #657, and fell off the male charts in 1947. Notable dudes named Allison include: screenwriter Allison Burnett and sports journalist Allison Danzig.
Vivian – peaked in 1904 at #513, and fell off the male charts in 1934. Notable dudes named Vivian include: heavy metal guitarist Vivian Campbell, educator/human rights activist Vivian Wilson Henderson, and explorer Sir Vivian Fuchs.
Ashley – peaked in 1980 at #282, and fell off the male charts in 1995. Notable dudes named Ashley include: football players Ashley Sheppard and Ashley Lelie; model Ashley "Ash" Stymest; and singer Ashley Parker Angel.
Beverly – peaked in 1915 at #523, and fell off the male charts in 1955. Notable dudes named Beverly include: Judge Beverly M. Vincent, author/minister Beverly Carradine, and editor (and grandfather of Uma Thurman) Beverly Reid Thurman, Jr.
Addison – peaked in 1986 at #51, and fell off the male charts in 2010. Notable dudes named Addison include: actor Addison Richards, and baseball players Addison Russell and Addison Reed.
Cassidy – peaked in 1983 at #669, and fell off the male charts in 1993. Notable dudes named Cassidy include: pro wrestler Cassidy O'Reill, and rapper Cassidy (whose birth name is actually Barry Adrian Reese).
Dana – peaked in 1954 at #166, and fell off the male charts in 1998. Notable dudes named Dana include: actors Dana Carvey, Dana Ashbrook, and Dana Andrews; journalist/columnist Dana Milbank; and film producer Dana Brunetti.
Hilary – peaked in 1902 at #888, and fell off the male charts in 1932. Notable dudes named Hilary include: philosopher Hilary Whitehall Putnam, and illustrator Hilary Knight.
Lindsay – peaked in 1960 at #633, and fell off the male charts in 1986. Notable dudes named Lindsay include: painter Lindsay Dawson, actor/singer Lindsay Crosby, and football players Lindsay Knapp and Lindsay Scott.
Mackenzie – peaked in 1994 at #366, and fell off the male charts in 2002. Notable dudes named Mackenzie include: actor Mackenzie Astin, singer Mackenzie Bourg, and artist Mackenzie Thorpe.
Shelby – peaked in 1938 at #386, and fell off the male charts in 2000. Notable dudes named Shelby include: novelist/historian Shelby Foote, pro wrestler Shelby Wilson, baseball player Shelby Miller, and U.S. Senator/17th Governor of Illinois Shelby Cullom.
Annie – peaked in 1901 at #466, and fell off the male charts in 1938. While there are no men in the spotlight named Annie, there are a few notable male Annes, like writer Anne DeVries, politician Anne Vermeer, and painter Anne-Louis Girodet de Roussy-Trioson.
Lauren – peaked in 1937 at #625, and fell off the male charts in 1990. There are no famous Laurens (aside from designer Ralph, but that's his last name), but the Loren spelling has a few notables, including animator (and creator of "Bob's Burgers") Loren Bouchard and anthropologist/writer Loren Eisley.
Joyce – peaked in 1932 at #625, and fell off the male charts in 1947. Notable dudes named Joyce include: novelist Joyce Cary, and poet Alfred Joyce Kilmer.
Margaret – peaked in 1907 at #392, and fell off the male charts in 1944. There are no notable male Margarets, but that doesn't mean they don't exist – over 2,000 boys have been given this name since 1900.
Whitney – peaked in 1986 at #567, and fell off the male charts in 1989. Notable dudes named Whitney include: civil rights activist Whitney Young, Jr., football player Whitney Mercilus, investor/philanthropist Whitney Tilson, and magician Whitney "Whit" Haydn.
Leslie – peaked in 1902 at #85, and fell off the male charts in 1998. Notable dudes named Leslie include: actors Leslie Nielsen and Leslie Odom, Jr.; comedian Leslie "Bob" Hope; and former U.S. President Leslie Lynch King, Jr. (birth name of Gerald Ford).
Madison – peaked in 1903 at #514, and fell off the male charts in 2005. Notable dudes named Madison include: football player Madison Hedgecock, football coach Madison "Matty" Bell, novelist Madison Smartt Bell, and novelist Madison Cooper, Jr.
Meredith – peaked in 1941 at #582, and fell off the male charts in 1955. Notable dudes named Meredith include: playwright/composer Meredith Willson, and Nobel Prize winner Wendell Meredith Stanley.
Evelyn – peaked in 1907 at #787, and fell off the male charts in 1931. Notable dudes named Evelyn include: novelist Evelyn Waugh and financier Evelyn deRothschild.
It's interesting to note that the vast majority of name crossovers are from male to female, with only a very few exceptions: Tatum, for example. It first appeared as a female given name thanks to child actress Tatum O'Neal, but in 2010, it jumped onto the boys' top 1000 most popular names, and as of last count it had risen to spot #598.
When the parents of yesteryear named their boys Beverly or Margaret, they likely had no idea that their young sons would be the bearers of names that would eventually be more popular for females. So maybe someday, when my great-great-great grandchildren are learning about their family history, they'll be surprised to hear about a boy named Cameron … just as I was, so long ago, about a boy named Stacy.
Need naming help? Check out the Scary Mommy baby name database, with thousands of names and lists for inspiration!
This article was originally published on