6th Grader's Note About School Bus Hitting And Damaging A Car Goes Viral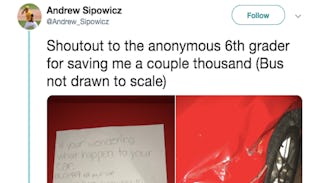 Image via Twitter/Andrew Sipowicz
This 6th grader's note is an A+ example in doing the right thing, and it's hilarious to boot
The kids are alright, and stories like this one prove it. A note written by a 6th grader in New York has gone viral after the recipient — the owner of a car that was damaged in a hit-and-run — says she saved him "thousands" of dollars.
Andrew Sipowicz is a 21-year-old Buffalo resident and a junior in college. He recently shared two photos on Twitter that show the damage his car sustained in a hit-and-run with a school bus. The silver lining here is the 6th grader who witnessed the incident.
Here's one kid who's not at all afraid to tell the truth.
"Bus not drawn to scale." LOL. She included the whole truth, nothing but the truth, a little more truth on top of that, and a drawing for emphasis. Someone give this girl an award!
"If your wondering what happen to your car, bus 449 hit your car. It stops here every day to drop me off," the note reads. "What happened? She was trying to pull off and hit the car. She hit and run. She tried to vear over and squeeze threw but couldn't. She actually squeezed threw. She made a dent and I saw what happened."
THAT BUS SKETCH THOUGH. Omg. The faces of the little stick children — BRB, dying.
The note details that the damage was sustained to the "driver seat left door" and identified the perpetrator as a driver for Buffalo Public Schools. She included the most adorably damning sketch of the bus in question, and then signed the letter "A 6th grader at Houghten Academy."
Sipowicz says the girl has been identified and he plans to reward her for her effort:
Aside from the car, obviously, everyone here is a winner. Naturally, the internet is exploding in reactions to this amazing viral tweet. Many people applauded this girl's forthcoming act of bravery.
https://twitter.com/jetpack/status/1065272530229956608https://twitter.com/jetpack/status/1065282497150369795
Others noted her quick thinking and complete dedication to detail will help pave the way for her future.
https://twitter.com/jetpack/status/11065248109612142594
Perhaps the best response to this young girl's note is her teacher's — who rewarded her in the most awesome way that only a teacher can.
While there's no update on whether the insurance company and the school bus company will work this out, I think we can all agree that this young girl deserves some extra pumpkin pie tomorrow — and a permanent place on the 'Nice' list.