This Girl Scout's Cardi B Remix To Sell Cookies Is Everything
by Julie Scagell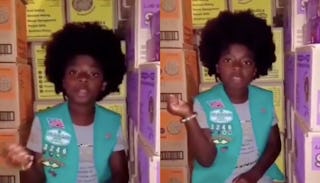 Image via Twitter/Girl Scouts of America
This little girl knows how to sell a box of cookies
As long as the Girl Scouts have been selling their delicious cookies (#ThinMints4Life), girls have had clever strategies to be the top seller in their troops. But this next little (and extremely talented) girl just may have it on lock this year, rapping a remix of Cardi B's "Money" to sell hers.
Kiki, a Los Angeles Girl Scout, put her love of music, cookies, and a little healthy competition to good use, enticing potential buyers with an adorable video of Cardi's hit single "Money" with brand-new cookie and scout-promoting lyrics. She's the very definition of #BlackGirlMagic, but you have to watch the video to truly be inspired.
Take all of our money, please.
The Girl Scouts used the hashtag #BlackGirlMagic to tweet a little more about the amazing women and girls who exemplify what it means.
Kiki, who has "been in the game since 2014," is not messing around. She has a whole mess of cookies to sell, and she's not taking no for an answer. She's got "girls in her troop, cookies through the roof," and those things aren't going to eat themselves.
And of course, Twitter was all about Kiki and her incredible skills.
https://twitter.com/jetpack/status/1092410787249872902
The Girl Scouts didn't give out Kiki's page specifically, but it didn't take long for the good people of Twitter to find it so they could buy from the budding star directly. "Selling Girl Scout Cookies has taught me to work as a team to set our troop goals for cookie season," Kiki wrote on her landing page. "With our cookie earnings, my troop and I plan activities year-round and do important things to help our community. With this year's cookie earnings we will Troop activities and community service projects. Please support my sale so we can reach our goals. Thank you!"
Of course, Kiki isn't the only one around the country getting creative to sell cookies. 11-year-old actress and fellow Girl Scout Mackenzie Hancsicsak, who stars as young Kate on This Is Us, upped the game at the SAG awards this year, selling them from her table. And who can forget the girl who rolled up with her dad to a dispensary in Edmonton the day marijuana became legal in Canada? She sold out, obvi.
If you've already purchased your cookies for the year but still want to support Kiki and her troop, you can donate money or cookies through their Gift of Caring option. According to the Girl Scouts site, this program "is a council-wide service project that gives the community the chance to donate cookies to military troops overseas and other nonprofit partners. The program provides Girl Scouts the opportunity to learn philanthropy."
Regardless of how she fares this year, we're pretty sure this isn't the last we'll be seeing of Kiki in the future.
This article was originally published on