Genius Girl Scout Turns 'Samoas' Into 'Momoas'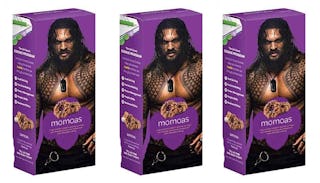 Image via Instagram
Sign us all up for a dozen boxes of 'Momoas' please and thanks
If you think only adults are capable of creating and executing killer business plans, take a seat and listen to this story about a Girl Scout in Colorado. It involves some famously delicious cookies and a shirtless Jason Momoa, so you're going to want to read this.
Girl Scout cookies are pretty much the only fundraising food item you actually want to buy from school-age children, amirite? That being said, there's no reason Girl Scouts can't come up with awesome incentives for their target audience in order to boost their sales. Enter Charlotte Holmberg, a Top Cookie CEO Girl Scout from Colorado, who came up with the best advertising ever: "Momoas."
https://www.instagram.com/p/Bt1Eq0PH3ZU/
Yep. That is a shirtless Jason Momoa in place of the non-shirtless, non-sentient Samoa cookies. Sign me up for a dozen of those, please (and I despise coconut).
https://www.instagram.com/p/BtcYflCHaoh/
According to 9News, she and her mom came up with the idea after seeing the photo of a shirtless Momoa on Facebook. Her mom is a marketing professional and got to work printing out the pictures and gluing them on dozens of boxes of Girl Scout cookies. They shared a photo of the finished product on Facebook, and voila!
"The moms are getting really excited and they're saying that they need them," Charlotte said. BECAUSE WE DO, CHARLOTTE. WE REALLY DO. They don't call her the "Top Cookie CEO" for nothing, that's for sure.
When it comes to getting moms (and anyone with a pulse, really) excited, Jason Momoa delivers. On every level. Remember when he gave us our Christmas present early by portraying a holiday stripper on SNL?
His striptease was enough to help Tiny Tim walk unassisted and make the rest of us reach for the smelling salts at the same time.
He's also one hell of a family man. He's got two kids, Nokoa and Lola, with longtime love Lisa Bonet. Last year during his Aquaman premiere, he invited both kids to join him and the movie cast in a ceremonial haka dance on the blue carpet.
It's no wonder the "Momoas" are selling like crazy — they're the perfect choice for anyone who wants to literally take a bite out of Jason Momoa. Major kudos to CEO Charlotte and her mom for knowing what their target audience wants, and delivering.
This article was originally published on