You Can Now Order Girl Scout Cookies Online
by Julie Scagell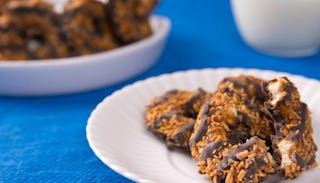 brianpdx / Creative Commons / Flickr
Buy some Girl Scout Cookies for yourself and have boxes delivered to those on the front line
The Girls Scouts of USA is doing its part during the coronavirus pandemic to make sure we all have our share of their wonderful cookies while we're at home — and you can donate boxes to the healthcare workers on the front line, too.
The organization announced Friday it's now selling Girl Scout Cookies online after it suspended all in-person events during its peak season to help stop the spread of the virus. That means we can support the scouts while eating our weight in Thin Mints, Tagalongs, and Caramel Delights while stuck at home with our families. Sounds like a win-win to me.
"For 108 years, Girl Scouts has been there in times of crisis and turmoil," Girl Scouts of the USA CEO Sylvia Acevedo said in a statement. "And today we are stepping forward with new initiatives to help girls, their families, and consumers connect, explore, find comfort, and take action."
GSUSA launched a new campaign called the Girl Scouts Cookie Care program, allowing cookie fans to order as many as their heart's desire and have them shipped directly to their homes. "And to ensure girls are getting the tools they need to become our world's ambitious change-makers, the organization also launched Girl Scouts at Home, a national online platform where all girls and families — not just Girl Scout members — can access free, self-guided activities from GSUSA's expert programming," the statement said.
"As the country's expert on girls, Girl Scouts is uniquely poised to help the millions of girls and their families adapting to a new reality. With Girl Scouts at Home, families everywhere can access self-guided, free activities to keep them engaged and connected to their communities and the larger sisterhood of girls," the organization said.
If you're trying to limit your sugar intake these days, you can order boxes and have them delivered to first responders, volunteers, hospitals, and other "essential workers" fighting the spread of the virus. "By buying and donating cookies, Girl Scout Cookie fans are helping sustain our life-changing programs for girls — and bringing joy and comfort to those on the frontlines of this crisis," Acevedo said.
The organization called its Girl Scout Cookie program the "financial lifeblood" that helps it deliver life-changing programming to 1.7 million girls. Many of us look forward to ordering from our favorite Girl Scout or meet neighborhood kids when they come to you door selling cookies but times have changed and these programs are an awesome way to still support them from a distance.