This Nosy Girl Spying On Her BFF's Big Date Is All Of Us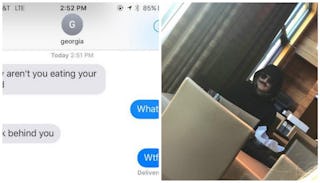 Image via Twitter
The internet is loving this sneaky BFF
A woman defined best friend goals recently when she decided to spy on her BFF's date. Donning a disguise, this dedicated pal observed the couple from afar to make sure all went smoothly. The best part?
She wore a fake mustache. No, we're not kidding.
Dating can be a little scary, right? If you're going out with someone you've never seen in person, which is common in these days of digital dating, there are not only concerns of safety, but compatibility. There's always the age-old method of having a good friend call or text at a certain time in case you need a mid-date rescue, but a girl named Georgia took it several steps further by showing up for BFF Presleigh Dawsyn. Literally.
Dawsyn tweeted about Georgia's hilarious (and heroic) BFF deed saying, "when your best friend wants to make sure your first date goes well," complete with photos of her spy get-up and the creepy text she sent to alert Dawsyn of her presence. It's since been retweeted over 200,000 times.
Oh my god, we love this so much. Dawsyn's on her date, going about her business, when Georgia sends a text asking why she isn't eating her food, and that's when it all came together. Can you imagine being on a date and receiving that message? It's like the old horror film cliche where the call is coming from inside the house, only awesome instead of terrifying.
Georgia's outfit to cleverly cloak her true identity included a black hoodie, sunglasses and a fake mustache.
Oh no she didn't.
Oh yes she did.
Georgia's clearly invested in her BFF's happiness, and Twitter is here for it. The responses flooded in from people wishing they had a friend as loving and dedicated as our mustachioed she-ro.
And plenty of BFF pairs vowing to show up for each other during future dates.
It's official; Georgia's set the gold standard for BFF-ship with her hilarious scheme. From now on, you know the drill. Be the creepy woman in the fake mustache making sure your friend is being treated like the queen she is. And if it all goes to shit, then at least the two of you get a night out together.
Just make sure to remove the mustache.