School Refuses To Sell Prom Tickets To Homebound Student With Cerebral Palsy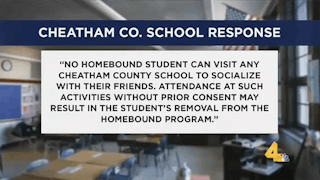 The school refused to sell her tickets
Like many high school seniors, Ashley Hamblin spent lots of time planning the perfect prom night. The 12th grader from Cheatham County Tennasse has everything planned down to the last detail. She has a date and did a trial run for hair and makeup. She even purchased a stunning red ball gown. But when she tried to buy tickets for the prom, the school refused to sell them to her on the grounds that she's part of the school district's homebound program.
Hamblin has cerebral palsy. She uses a wheelchair. Due to her CP and other medical challenges, she doesn't attend school with her peers. Hamblin is enrolled in the homebound program, a district program for students unable to attend school due to serious illness or injury. She sees her friends at football games and other school functions and has never had an issue with school administration before, but when she tried to buy tickets to prom she was told that it was against the homebound program policy to allow her on the school campus.
In a statement obtained by Channel 4, Cheatham County Schools said Hamblin was provided with guidelines of the homebound program at the start of the school year and therefore was already made aware that she's not allowed at prom. The guidelines say "the student placed on homebound should not return to his/her school, or any other Cheatham County School for any reason, including extracurricular activities (i.e. ballgames/sporting events, proms, banquets, dances, etc.)." The school's reasoning is that by being part of the homebound program, a doctor has determined that Hamblin is too ill to be at school.
Hambling told Fox17 that she just wants to get the traditional prom experience like all the other students. "I would love to experience what all girls dream of — the dresses, the hair," she says." Yes, she has a valid reason to be schooled at home, but that shouldn't prevent her from taking part of social activities or having friends. Having to be part of the homebound program is out of her control, and she shouldn't be punished because of her medical condition. She should be worried about finding a dress she likes, not waiting to see if she'll actually be allowed to attend at all. "What most people don't understand is that I'm not on this by choice," she said.
While the district has sent Hambling a form to fill out if she would like to seek an exception, her grandmother Glenda Turner, claims the principal made his position clear already. She alleges the principal told her "[i]t was against the law. That it was not going to happen and that he could not make an exception."
Hamblin says she wants the school policy to change so that they make a decision on a case-by-case basis for students enrolled in the homebound program who want to attend school activities. "If I can't go to prom," she says, "I at least want other people to be able to go."