7-Year-Old Applies For A Job At Google, CEO Responds
by Valerie Williams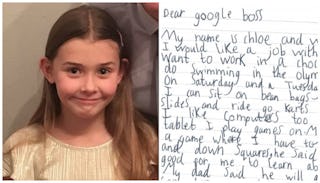 Image via Andy Bridgewater
She heard back in a matter of days
When you apply for that job that's a bit of a reach, you might not expect to hear back, let alone a personal and prompt response via actual mail. But that's exactly what one enterprising job seeker received when she aimed for the moon by contacting Google about her future employment.
Oh, and she happens to be seven years old.
Hereford, England first grader Chloe Bridgewater had a motivating career talk with her dad recently and decided to turn it into action by applying for a job with Google. Yes, that Google. She wrote a letter the the "Google boss" explaining her varying life ambitions including goals of working in a chocolate factory and swimming in the Olympics.
Citing some of the well-known perks of working at the Google campus, Chloe explains how exciting she finds the bean bag chairs, slides and go-karts the tech giant offers their employees. She tells Google about her family, including younger sister Hollie, and also, sells herself a little. "My teachers tell my mum and dad I am very good in class and am good at my spelling and reading and my sums."
Work it, girl.
She tells of her love of computers and tablets and closes her letter explaining it's only the second she's ever written, the first being to Father Christmas. Because after all, she's seven. According to Mashable, Chloe's father Andy says the family has no connections to the company and has never even been to California. But the child sent her letter and "hoped for the best."
And she got it. Here's the response she received from Google CEO Sundar Pichai, only a few days later. Her dad shared it on Twitter.
Pichai thanks Chloe for writing and says he's glad she likes computers and robots, expressing hope that she'll continue learning. He tells her, "I think if you keep working hard and following your dreams, you can accomplish everything you set your mind to — from working at Google to swimming in the Olympics."
Off-the-charts adorable.
He closes saying he looks forward to receiving her job application when she finishes school.
Chloe's talk with her dad about his job as a refrigerator parts sales manager is what got her sights set on Google. When she asked if there's another job he would rather have, he told her all about the Silicon Valley dream company where pretty much anyone would love to work. "I said Google would be cool and she asked why. So I showed her the pictures of their offices and the cool things they do."
And now, Bridgewater tells Scary Mommy Chloe got a chance to visit GoogleLondon for a tour just today. He says, "I don't think any of us can grasp the absolute scale of this. Not sure when it will stop!"
And why would he want it to? What an incredible thing for a seven-year-old to experience. This is definitely one of those formative moments that could literally determine her course for the rest of her life. As far as advice to other parents who have kids with big dreams, Bridgewater says to first and foremost, let them be kids. But also, don't put a damper on their drive. "If they do start having ambitions or dreams, encourage and support them, David Beckham, Lewis Hamilton, Obama all had dreams! What the world would miss if someone stopped them?"
Truth. So if your child has ideas on working at a big company or making the NBA or joining NASA, let them write a letter. As Chloe Bridgewater found out, you never know what might come of something so simple.
This article was originally published on