My Girlfriends Got Me Through My Divorce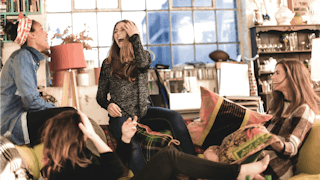 Mint Images Getty Images
The night my ex and I decided to separate, I called my best friend and we talked into the wee hours of the morning. When we hung up, I felt stronger than I had in a long time.
The next day, I had lunch with my sisters. I literally texted them at 2 in the morning and asked if we could meet the next day because I needed some support — something I rarely do to my fellow mothers because I get that life doesn't work that way after you have kids. They rearranged their schedules, and they were there. As we hugged and got into our cars, I started to believe I could do this.
A few weeks later, the same bestie who kept me calm and helped me sort out the details of my new life scheduled a weekend away for the two of us. We went to Vermont, got massages, ate tons of junk food, and I felt loved, supported and stronger than ever after returning home from our trip. Even though I knew she was still going to guide me despite her being 5 hours away, I cried the whole way home, thinking, "If I could see her more, I could nail this fucking thing."
It's funny what life and really fucking tough situations can do if we sit back, feel it, and allow the healing to start. I'm a true believer (now more than ever) that healing will not happen if we don't allow ourselves to feel the uncomfortableness of a situation.
Yeah, the pain can be unbearable, but when I sat with my hurt, something pretty amazing started to happen: Women from my past started finding their way back to me. I now have three very close old (but new) friends who have been through a divorce of their own. Would we have reconnected this late in life if we weren't sharing the same life experience? I don't think so. The Universe always delivers, and they came to me in a time when I needed them.
I've made a few very close friends online too, a few who I've met in person, because of a meme or story I've shared about divorce.
There's one woman in particular who I see at least once a week and we talk to each other every day. We discuss our Tinder profiles, and send screenshots to each other asking if the other has dated (or just had some fun with) certain guys so we make sure our paths don't cross in the dating pool. We've spent hours sending pictures of outfits to each other before we go on dates. It's like we are in college all over again, and it's glorious and healing and fills my heart every time.
Once every few months, I host an all-ladies' afternoon at my house. I make sweets, serve wine, shop for sex toys or essential oils, and laugh our ass off.
And all of this — all of these women — have saved me. I don't know if they know that, but I really need to tell them. I'd like to think, in some way, that maybe I've had the same impact on them.
When you are able to count on your girlfriends, whether they have been through a divorce or not, whether you see them on the regular or not, there is a part of you that believes you can actually fucking do this divorce shit. Because believe me, we've all had moments when we just weren't sure. When we didn't know if we were enough or doing it right, or going to be able to face the day.
Girlfriends have been a huge part of my life since I can remember. They have been a force in my life and have gotten me through high school, college, marriage, and children. But they have had the strongest impact on my life through my divorce.
I know part of it is because this has been the most difficult thing I've ever had to navigate, and there were times I was forced to ask for help — even when I didn't want to. But people who are meant to be your people in life will lift you up when you aren't strong enough to do it yourself.
And I am one damn lucky women to be surrounded with so much love and pure strength while I am trying to settle into my new life.
This article was originally published on