We've Given Up Buying 'Stuff' In Favor Of Experiences, And We've Never Been Happier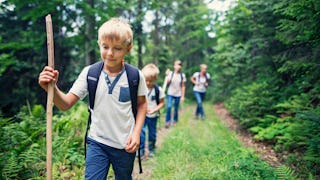 Imgorthand / iStock
My kids barely had Easter baskets this year. They got a chocolate bunny, some jelly beans and stickers, and eggs they hunted for in the front yard. I know, it sounds stingy to many of you. Believe me, it felt stingy when I saw some of those spreads laid out on Facebook: soccer balls, an entire Willie Wonka factory, video games, and three stuffed animals — each. All that was missing were the Hamilton tickets.
But my kids were happy, though one of them asked where the Lego sets were. They don't believe in the bunny, and they know where Mama and Daddy spent the holiday cash — on our spring break trip to the mountains. We've given up on stuff. Stuff kind of sucks. We're into experiences.
We left the Saturday before Easter and spent six glorious days in the mountains of North Carolina, in the cabin we always stay in (which really is not a cabin because it has a hot tub, which pushes it from "cabin" to "luxury rustic resort"). We hiked to several waterfalls. We also found our favorite secret beach on the Chattooga River, where the boys caught brown trout and dug in the sand. We climbed a mountain. And instead of buying crap in the stores downtown, we collected chips of shiny mica, which we displayed in a bowl on our entry table. The trees were bare, but mountain laurel is evergreen, and my sons caught salamanders beside a raging waterfall. When we left, my middle child wept because the biggest one had gotten away.
I will remember this. I will remember the brown trout my sons caught, their red spots stippling in the sun. I will remember how high the rivers ran after all the rain. I will remember their bodies dipping through the hot tub, sleek as otters, the mountain laurel all around. This beats a giant Easter spread any day. My boys will agree.
This isn't to say we don't spend money. We do. Last year, at the end of the season, stores discounted their children's kayaks to 50 bucks a pop — including a paddle. We shifted the money from our Christmas fund and got two tiny kayaks. My husband, Bear, and I already had our own, plus a canoe, all left over from our grad school days. We spent more Christmas moola updating our gear.
And then, gloriously, my then-6-year-old was learning to kayak in his own boat. He floated down the whole of Cedar Creek in Congaree National Park, over cypress knees and under water oak branches. We saw a brown water snake coiled on a branch. I capsized once and scrambled back into my boat, terrified of the fish lurking. He and his so-called girlfriend lingered behind and planned their wedding date while we adults eavesdropped and half-snickered, half-melted. A stick bug fell in the canoe, and my then-4-year-old screamed for 15 minutes straight.
We still drop money on the kayaking. It's what we buy instead of toys, instead of nice clothes. The sporting goods store is a bonanza of tow ropes and paddles and lightweight, long-sleeved sun-proof shirts. On Easter Saturday, we floated down the Saluda River. My 3-year-old rode in my lap as I kayaked. We saw osprey and kingfishers. Bear didn't get a nibble, but we explored a side creek and saw muskrats. Blaise, my oldest, delighted in scaring turtles off logs. And when we went through the class 2 rapids, he turned to me and said, "Mama, can we do it again?"
We also go to battlefields. Hamilton and homeschooling have conspired to make Blaise obsessed with the American Revolution, so we hit all the local hot spots. We listen to audiobooks of famous generals on the way, and then trace the steps of the soldiers who fought and died for independence. My 7-year-old knows what a redoubt is because he's seen one. He pretended to storm the redoubt they rebuilt at Camden. He's also clambered over ships and traced the path of palisades. Gas isn't cheap, especially when you're driving clear across the state, but we cut some cash off our Target bills and make do.
Then there's the local stuff. We beg relatives to shell out not for physical Christmas presents, but for annual memberships to the zoo, the state museum, and the local children's museum. And seriously, we go to that damn zoo once a week. In the summer, we hit the botanical garden's splash pad even more often. Blaise met his "girlfriend" there at a homeschool event. The other week, he made his brothers bury him all the way up to his neck in the sand. It made for a great photo-op.
We try not to go in for stuff. We have too much stuff as it is. And when I go into my house, I can almost feel it weighing me down. I want to get rid of what we have, not accumulate more. Sure, I might need a new kayaking shirt now and then. And we might need a new tow rope for August, our 5-year-old, who's not confident on his kayak yet. But we'd rather spend our cash making memories and having experiences. Seeing my sons glide down the river and hold brown trout are sights I will never forget. I hold them in my heart. And I learned a long time ago: The heart can't hold things like Easter baskets.
This article was originally published on