Japanese Women Are Fighting To Wear Eyeglasses To Work — Yes, Really
by Leah Groth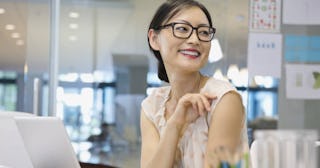 Getty Images
The hashtag #glassesban is trending on Twitter following a news segment that revealed many Japanese companies do not allow their employees wear glasses
There are so many things that we take for granted living in the United States. This includes liberties such as freedom of speech, democracy (OK, so this is up for debate), and apparently, the right for women to wear eyeglasses at the office? Japanese women are currently fighting for their right to wear spectacles to work, following Japan's Nippon TV airing a segment about the absurdity of the nation's prescriptive beauty standards set force by employers.
RELATED: Kids Need Glasses? We've Got 13 Best Eyeglasses For Kids + Expert Tips On How To Get The Best Fit
According to the segment, glasses give shop assistants a "cold impression," are a safety risk for airline workers, and are simply not appropriate for women working in the beauty sector, as their made-up faces can't be properly viewed.
Ever since the segment aired on Nov. 6, the hashtag #glassesban has been trending on Twitter with people — both women and men — around the world expressing their outrage over the many companies that have made it official policy that females must wear contact lenses instead of prescription glasses.
"The emphasis on appearance is often on young women and wanting them to look feminine," Banri Yanagi, a 40-year-old sales associate at a life insurer in Tokyo, said in an interview, per Bloomberg. "It's strange to allow men to wear glasses but not women."
If glasses are the issue at hand, shouldn't employees of all genders wear contacts? "If wearing glasses is a real problem at work it should be banned for everyone — men and women," Ishikawa continued. "This problem with glasses is the exact same as high heels. It's only a rule for female workers."
Did we mention women are forced to wear heels, too? Ishikawa was previously the brainchild behind a petition signed by more than 31,000 supporters in agreement that standing in uncomfortable heels all day should not be a job prerequisite for women at the office. Apparently the Health, Labor and Welfare Minister at the time, Takumi Nemoto was all for the heels-at-work rule. "It's generally accepted by society that [wearing high heels] is necessary and reasonable in workplaces," Nemoto said.
Makeup is another issue altogether, as many employers require women employees to come to work with a painted face. Yes, sexism in the workplace is definitely happening in Japan.
The BBC reports that Kumiko Nemoto, professor of sociology at Kyoto University of Foreign Studies, dubbed the policies "outdated."
"The reasons why women are not supposed to wear glasses… really don't make sense. It's all about gender. It's pretty discriminatory," Kumiko said, adding that they were representative of "old, traditional Japanese" thinking. "It's not about how women do their work. The company… values the women's appearance as being feminine and that's opposite to someone who wears glasses."
Japan isn't totally outdated with their workplace standards, however. Microsoft Japan recently broke ground when they tried out a new, progressive four-day work week with their employees. Giving their staff an extra day off proved fruitful, as productivity increased by 40 percent.
This article was originally published on