GMA Host Laughs About Prince George Taking Ballet Lessons
by Julie Scagell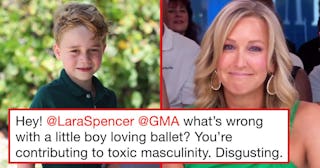 Kensington Palace/Instagram, GMA/Youtube and Alysha Umphress/Twitter ‏
The fact that this is happening in 2019 is horrific
Good Morning America host Lara Spencer is at the center of some pretty heated discussions after she talked about, and then laughed at, Prince George for taking ballet as a part of his curriculum on air during a segment of the show called Pop News.
The talk show host was sharing what Prince George, six, would be up to this fall as he heads back to school. "In addition to the usual first or second-grade things, like math, science, and history, the future King of England will be putting down the Play-Doh to take on religious studies, computer programming, poetry, and ballet, among other things," she said, stumbling and laughing when she got to ballet. Yes, really.
When her cohosts and the audience began laughing with her, she doubled down, saying, "Prince William said Prince George absolutely loves ballet. I have news for you Prince William – we'll see how long that lasts…" This is a grown woman (and grown adults) calling out a six-year-old for having an interest in the arts and then joking about it in front of a national audience. This is a prime example of the effects of toxic masculinity, and it's frankly horrifying seeing it play out on national television.
Understandably, many were outraged by her tone-deaf and all the way around bully approach to the news, including Broadway stars like Erich Bergen (Waitress), Keala Settle (Waitress/The Greatest Showman), Julia Murney (Wicked), and many more:
https://www.instagram.com/p/B1go6DEH_8V/?utm_source=ig_embed
Tony Award-winning director and choreographer, Jerry Mitchell, also took to Instagram to call out both Spencer and the show, saying in part, "Really? Some of us take ballet. Some of us win TONY AWARDS cus we took ballet. Miss thing, it's 2019… Get a life."
It's no secret boys who take an interest in what society deems "feminine" activities get bullied at school and from friends for not liking what's popular or "manly," but you'd think a grown-ass woman who is on a national talk show would have the sense (and the responsibility) to do better. We're talking about a child. Spencer has interviewed Broadway star Lin-Manuel Miranda on the show, gushing about his performance. How do you think he got that good?
Here's hoping Spencer, and the network, realize just how damaging this type of behavior is to boys of all ages and redirects the conversation to the importance of arts and athletics of all kinds for all kids.
This article was originally published on