Goat Yoga Is A Thing, And It Has A 900-Person Waiting List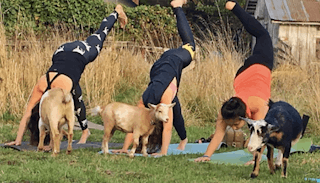 Goat yoga mixes nature, relaxation, and farm animals for an adorably zen time
There's the breastfeeding mom yoga, the beer yoga, and now goat yoga. Combining beautiful views of Oregon with goats and yoga has turned the class into a phenomenon with a 900-person waiting list.
We know what you're thinking, "wait, what the hell is goat yoga?" Simply put, it is yoga … but with goats. For the longer answer on how this all got started Scary Mommy talked to Lainey Morse as she fed the goats one evening on her farm in Albany, Oregon.
Morse told us her goats are super social and love being around people, which is why she auctioned off a kid's birthday party for charity. While the kids played with the goats, Morse and the parents chatted. One mom, Heather Davis, told Morse: "You should really let me have a yoga class here." The farm owner agreed as long as the goats could come.
The first yoga class sold out immediately, and the desire for more grew and grew. Morse told us that she thinks people love the time on the farm and the interactions with the goats because "the political climate is so nasty and reading the [news] headlines is torture." But when you're lying on your stomach stretching, and a baby goat crawls on your back, "you can't help but be happy," Morse said. "It's the best distraction."
"It's really about disconnecting from the world's stress," Morse shared. Her class participants typically travel from busy cities so they can spend some time in the country. "They're used to traffic, stress, concrete – and they can escape that," she explained. "Goats are really calming. They go very well yoga."
As chickens could be heard clucking in the background, Morse told us that her new business stemmed from the worst year of her life. In the midst of a divorce, the former runner was diagnosed with Sjögren's syndrome, which is a chronic autoimmune disorder similar to Lupus. "Oh my God what am I going to do," Morse asked herself. She worked as a photographer for years but now wasn't strong enough to hold her camera. "Whenever I was stressed I would sit out in the field with the goat," she shared. "You forget you're in pain, forget you're sad and depressed."
The time on the farm with goats was incredibly soothing for Morse. Eventually the medicine for her autoimmune disorder started helping ease the pain and she realized she wanted to bring the tranquility of farm life to others. "It was so therapeutic spending time with them, so I started inviting my friends over," she told us. "And it didn't matter if they showed up sad or worried – everybody leaves happy after time with the goats."
While goat yoga continues to gain fame across the world – Morse had just finished an interview with a German television company when we spoke – the goat whisper has been thinking of other ways to spread the cheerful experience. "My end goal is to have veterans and therapists come out and spend time with the goats," she said. Morse wants to use her prescription of fun time on the farm to help anyone who is hurting. "We had a doctor come out and take everyone's blood pressure before and after the class," she shared. "And everyone's was lower after time with the goats."
This article was originally published on