Blech! 165+ Goblin Names For The Grossest Characters You Can Create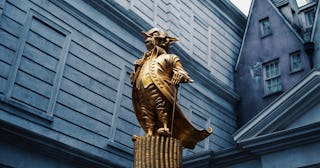 Brian McGowan/Unsplash
Goblins are an interesting breed of mythical species. While they're almost always represented as nasty and simply terrifying, they're also often incredibly funny, if not sarcastic. Sure, encountering a goblin is rarely fun, no matter where you find them: Fantasy books, lore, video games, etc. But, there's also something a bit endearing about them. In Dungeons and Dragons, for example, they're nowhere near the toughest, strongest, or most powerful species, but they're formidable foes to many other creatures. What's more, there are many different tales of goblins (or "orcs" if you're a Lord of the Rings fan), you can create a goblin that's just as easily a cumbersome giant as he is a wee, sniping sneak (similar to the ones in Harry Potter). When it comes to goblins, there are no wrong answers. You've only got to use your imagination.
RELATED: Feeling Possessed? 100+ Demon Names For Every Evil Occasion
Naming your goblin, though, can be rather tough. Will you go with a "traditional" (or known) goblin name, as the ones we found here… or base your goblin's name on something else entirely? Perhaps your goblin has magical powers, so you choose to use a witchy name. Or maybe they're so smug and awful that they certainly belong in the fiery pits of Hell, where a name that means fire might be more appropriate. Just like when you name a baby (or any character), a name can say a lot about them. These goblin names just touch the surface.
What is a goblin?
Well… that depends on who you ask. Many people use "ghost" and "goblin" interchangeably, but that's not technically right. Wikipedia describes it as a "monstrous creature." That seems like the easiest but also broadest definition. After that, a goblin looks a little different and has many different characteristics depending on its origin. For instance, Korean goblins are like spirits or gods, often inhabiting anything from a fork to a tree to, yes, a beautiful girl. Meanwhile, across fantasy books and games, goblins are typically a race or species.
Korean Goblin Names
In Korea, goblins are called dokkaebi. They're not all creepy and evil, however. As a matter of fact, dokkaebi are actually very powerful nature gods or deities. Their favorite thing to do? Play tricks on humans. Sometimes, of course, dokkaebi hurt humans. Other times, however, they try to help them. Dokkaebi come in several types, each with their own names that would work perfectly as a name for a goblin you've created. Each kind of Dokkaebi comes with different traits, skills, and personalities. So, do your research if you're going to pay tribute to Korean dokkaebi by naming your own goblin or character after one.
Cham dokkaebi
Gae dokkaebi Gim Seobang dokkaebi Nat dokkaebi Go dokkaebi Gaksi dokkaebi Oenun dokkaebi Oedari dokkaebi
The Hobbit and Lord of the Rings Goblin Names
Thinking you don't particularly remember any goblins in LOTR? That's because they're actually The Orcs of The Misty Mountains. The goblins live deep, deep below ground in the Misty Mountains. When you mix the lack of sunlight with genetics, you're left with some pretty gruesome-looking characters. They were actually some of the main "bad guys" in The Hobbit. See if any of these goblin names sound familiar to you…
Azog
Bolg The Great Goblin Grinnah Yazneg
Goblin Names from Labyrinth
Jareth might be "The Goblin King" but, due to his contempt for the goblins, not many goblins are actually named in Labyrinth. Here are a few goblin names, though… some of them are pretty cute, actually.
Agnes
Apron Borgis Kahn Jareth (Though, he's actually a fae) Mayor Spittledrum Skub
Dungeons and Dragons Goblin Names
Looking for even more fantastical goblin names? Look no further than D&D, of course! From the original book to the many subsequent releases that followed, goblins can be found throughout. These are some great goblin names ripped right from our favorite game.
Crimson Hat
Fugh Grishnar Gully Huro-Huro Iz Iz Kalo Moka Pakpak Shake Spear Tik Trizick Uur'lok Yameeka Zarl
Goblin Names From World of Warcraft
World of Warcraft is another colorful, goblin-filled world. These are its most famous goblin names.
Donais
Druz Gazlowe Grizzle Helix Jastor Kryll Marin Mida Mogul Neesa Pauli Pozzik Revilgaz Rixxa
More Goblin Names
Looking for more goblin names that are also hilarious? Below, we have several that are perfect for your Goblin figurines and will give you a chuckle.
Bhaftaaz
Big Ears Biddy Boo Caatterd Criotnalmee Crumbles Drarm Duzz Gliokkolsia Grutaat Gryh Gumbobulous Hokoiszea Huntero Hairy Hoggington Khinkea Oiq Pariah Riobs Sharx Shmbulock Srebnalk Tamif Trizick Vic Xiagluld Nold Clearbit Rit Peddlefluke Dalvald Grandbrake Jabal Keenfault Yxqynbee Dullsnap Kelda Roughcoil Bizkekle Briskbit Exdaggeek Silvershiv Gebydal Smallkettle Kildan Foammine Ginkle Shorthammer Denkle Loosemix Eezik Dullmask Bekax Greasesteam Moxdaxle Haggletwister Ixze Pepperbeam Keenert Rusttwister Nitqald Mansnipe Dizi Grimenose Kwozin Goldhire Ginkle Shorthammer Denkle Loosemix Eezik Dullmask Bekax Greasesteam Moxdaxle Haggletwister Ixze Pepperbeam Keenert Rusttwister Nitqald Mansnipe Dizi Grimenose Kwozin Goldhire
Even More Goblin Names
Aq
Atmong Biaq Brekz Briotmusz Chert Clelzeez Creahx Delbaalk Diaruzea Dikeelka Doherm Drogzats Ealics Faaf Fehia Freelt Glonvaact Gnink Iazz Irgert Jisriank Juvnurd Kerreash Khirt Klild Kloblielmi Lorlex Orelb Oszink Plamraal Plekioct Prizokx Prurbuikx Pudzekt Rehulsi Ribsuzz Rubkold Slard Sleas Slylgioct Stogiokz Strialkoiq Stryrm Stryznierd Teerx Thrizzee Throinse Trakt Uil Uish Veesb Violseerm Vreess Ward Wioss Wonk Wreesz Wryrk Wukz Xosb Xuirk Zrag Zrizz Zudacs
This article was originally published on