Golden Girls Cereal Exists To Make All Our Lives Worth Living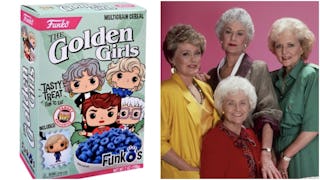 Image via ABC
Golden Girls cereal is the stuff dreams are made of
If you are into The Golden Girls, 2018 has been your year. There was the Golden Girls hot sauces, Golden Girls granny panties, and who can forget Golden Girls wine glasses featuring Sofia with the phrase "Drink up slut puppy." But if all those combined aren't enough to quench your thirst for the Fab Four, might we suggest Golden Girls cereal to really channel your inner St. Olaf.
The Target-exclusive breakfast essential will start rolling out in stores this month featuring all four lovely ladies on the front (though Dorothy looks pissed about something yet to be determined and Blanche is the only one with a mouth for reasons already determined).
And if that weren't enough to blow your mind, the box also has games on the back so you can distract the kids while you eat all of the cereal. The one head scratcher is the cereal is bright blue instead of gold and there's no marshmallow-shaped faces of each character which feel like two big missed opportunities but hey, beggars can't be choosers.
The makers of the obviously delicious breakfast fare also has a note for us old and young kids alike. "Hey Kids, remember what it was like to sit in front of the TV on Saturday morning and watch cartoons while eating your favorite cereal?! Well, Funko does! So we're bringing back Saturday morning to kids of all ages with our new sugar toasted FunkO's!"
But wait, there's more. Each box comes with a collector's toy inside which is guaranteed to make anyone who used to have to fight for the toy in their cereal box squeal with joy.
You are an adult with your own money — that toy is yours.
The ladies from Miami first graced our TV screens in 1985 and ran a glorious 180 episodes, finally calling it quits in 1992 after seven seasons. It is the epitome of what it's like living with your girlfriends and all that is good in the world. They've been re-running the series ever since and it's gained a whole new legion of followers who understand its magic.
And if Golden Girls isn't your jam (you should question all your life choices), you can also procure Beetlejuice or Pennywise varieties. You know, if scaring the shit out of your kids is something you're into.
This article was originally published on