The Golden Girls Are Coming To Disney+ This Summer And YES, We Need This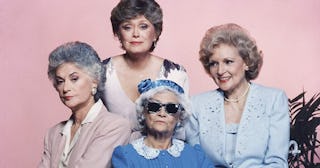 Touchstone Television
Get ready for a whole lotta Blanche, Rose, Dorothy, and Sophia this summer
It's literally impossible to be in a bad mood while watching the antics of Blanche, Rose, Dorothy, and Sophia in their wicker-is-wonderful Miami home. And after the past year we've all had, Disney+ is giving us a beautiful gift this summer — every single episode of The Golden Girls will be available on the popular streaming platform.
During a virtual Disney+ press event to promote the launch of the international service "Star," a general entertainment streaming platform, the news was confirmed. Since Disney+ will eventually serve as the "exclusive streaming home" for Disney's entire catalog, licensing deals will begin moving to Disney+ as it continues to grow its base of nearly 100 million subscribers.
Star will be a hub within Disney+ offering movies and television content intended for an adult audience — similar to Hulu. This gives way for many, many more shows and movies to become available on the streamer. Luke Bradley-Jones, SVP of direct-to-consumer and general manager for Disney+ EMEA, singled out The Golden Girls in particular as one show he's really worked hard on getting to the platform.
"I've been working hard on that. Coming this summer, you will have every season of The Golden Girls, every ever episode," he said during the conference.
Even though it's been 35 years since The Golden Girls premiered, the show is still as relevant as ever. Not just because friendship and aging are always relevant topics, but because of good, old-fashioned escapism and nostalgia.
There also haven't been a ton of shows that follow four female protagonists as they navigate life, love, and their health as vividly and accurately as portrayed on The Golden Girls. The show tackled everything from homophobia to homelessness all while showing four women in their "golden years" enjoy vibrant sex lives, fulfilling careers, and, of course, nightly gossip sessions over a slice of cheesecake.
Also, how many television shows that are almost four decades old still have a high demand for merch? Because Golden Girls fans still snatch up themed Halloween costumes, chia pets, mugs, wallpaper, and prayer candles on the regular. The show even has its own official Instagram account!
During its run, The Golden Girls won the Emmy for Outstanding Comedy Series twice. All four lead actresses also won Emmys for their performances, and deservedly so.
Disney+ is set to launch Star on Feb. 23 with 276 movies available in its catalog, along with many popular television shows. The Golden Girls will not be available with the launch of Star but will be added to Disney+ at some point this summer.
Sounds like the perfect time for a slice of Key Lime cheesecake and a watch party on the lanai.