The Best Golden Girls Swag To Make Life Less Sh*tty
by Cassandra Stone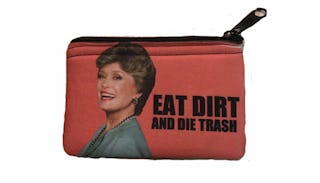 Image via Etsy/famedazed
This Golden Girls swag will turn your frown upside down
Look, if you're not mentally and emotionally drained from our endless news cycle of doom — you might want to check your heart for a beat. So what do we do when life feels shitty? We turn to escapism. And there is no better escapism than The Golden Girls.
Classic, binge-worthy television and visiting our favorite, beloved Miami quartet of sassy seniors is truly a balm for any weary soul. So why not honor Dorothy, Sophia, Blanche, and Rose the best way we know how by wearing our love for them out loud and proud?
TGFE (Thank God For Etsy) and the fact that this change purse exists. I can feel my ever-present, crushing anvil of doom and anxiety shifting ever so slightly already. Whip this baby out at the neighborhood picnic and make sure you attract the right kind of mom friends this summer.
If you've got plenty of pool days (or drinking-on-the-lanai nights) planned this summer, then what could be a more perfect accessory than these straws?
If you have a friend with a summer birthday (ahem — July 31, just saying) or you want to show your gym buddy or evening walking pal just how much you love them, then this tank says it all.
If you're in need of the perfect summer tote (even though moms collect tote bags like honey collects flies), this one is ideal for housing at least half a dozen library books or for a day at Miami Beach.
Perhaps that tote was a little too subtle for your taste? If you wanna give your favorite Norweigan-American St. Olaf sweetie some love, look no further than this shirt.
"Blow it out your Turbenburbles!" I DARE YOU to say this out loud, right now, and not laugh immediately. See? Instant mood lifter, these dames are.
And because Rose is a doll and Betty White deserves literally everything good in this life, here's a great Rose mug that's just begging for you to sip out of while curling up on a floral-print wicker couch.
Tired of losing your keys in your beach bag? Get ready to solve that problem with a Shady Pines keychain. Not only is it eerily reminiscent of every plastic, rubbery keychain my Grandma used to own in the 1980s, it's bright and cute.
And if you threw a party, and invited everyone you knew — well they're all just gonna have to drink out of solo cups or something, because this wine glass is JUST FOR YOU.
Drink up, slut puppy. You've earned it.
If you're not into wearing or drinking your Golden Girls, why not channel your inner child and play with them instead? Seriously. If Golden Girls Legos as self-care is wrong, I don't wanna be right.
LOOK AT THE DETAIL. I CANNOT.
Even though no one can make sauce like Sophia can, we can at least pretend we're as good as she is in the kitchen with this absolutely adorable handtowel.
And now the best for last — a watercolor art print I would absolutely buy and proudly display in my home. The kitchen at 6151 Richmond Street in Miami, Florida was the heart of that home and the show.
Now if you'll excuse me, I've got a cheesecake in the fridge and my bff is on her way over.
This article was originally published on