'Golden Girls' Tiki Mugs Exist At A Time We Need Them Most
by Julie Scagell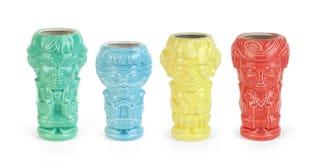 Toynk Toys
These 'Golden Girls' Tiki Mugs are the silver lining we all need
If you're like me, you're spending an inordinate amount of time online scrolling for something — anything — to make you smile and take your mind off our current situation. Look no further than these colorful Golden Girls-inspired Tiki Mugs which look like the perfect vehicle for your favorite quarantine beverage.
Online retailer Always Fits is selling a new line of Geek Tikis, and this one features all our favorite Florida roommates. You can buy one of each lady and they come in festive hues of red, yellow, blue, and green. The mugs hold 16-18 ounces of your favorite beverage, which right now likely involves something alcoholic.
Golden Girls-inspired products seem to be more popular now than they were when the girls were in their heyday, from Golden Girls Chia Pets, Christmas ornaments, costumes, and PEZ dispensers to Golden Girls cereal, Monopoly game, and hot sauce. Want Golden Girls granny panties? You can own your very own pair. The possibilities are endless if you're a fan.
The Golden Girls Tiki Mugs are sold separately if you have a favorite character but it'd be a shame to split them up, so you can buy the whole crew as well. The collection is crafted from ceramic and made to last, like the women themselves, so you can enjoy your mug for many years to come.
All four sassy Miami ladies and alcoholic beverages? I cannot think of a more fun way to spend a night right now.
Many of us had to cancel spring and summer break trips and are now safely social distancing at home, so why not set up a little tiki party in our backyards complete with the Golden Girls, some fun beverages, and a little decorative umbrella thrown in for good measure? Sure, it's not the beach but it's the best we've got right now so why not make the most of it?
You can get the full set of tiki mugs for $100 or each individual mug for $25.00.
What are you waiting for? Get to shopping, Golden Girls fans! You know Blanche would approve.
This article was originally published on