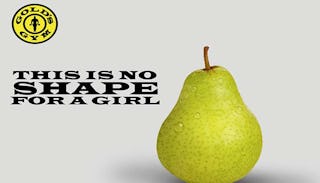 Image via Facebook/ Gold's Gym
A Gold's Gym franchise comes under fire for its fat-shaming ads
A Gold's Gym franchise put out some very unfortunate advertising this week and so far the brand has not publicly addressed the issue. The only response has been a copy/paste apology to infuriated members.
A franchise location of the popular gym in Egypt, called Gold's Gym Dreamland, posted the ad a few days ago, and seemed a little shocked by the backlash.
The ad is simply a picture of a pretty delicious-looking pear. Next to the pear are the words, "This is no shape for a girl." Because all women just love to be shamed by the place they are paying to help them remain active and healthy.
The internet was quick to point out that this ad is completely stupid, and Gold's Gym Dreamland was quick to respond with, "our apology, this post was not meant to offend anyone, and not against god's creation, or any type of women's body, it was meant to refer to a Healthy Fit body and cutting fats, NOT THE ACTUAL STRUCTURE OF THE BODY."
Would god's creation in this sentence be referring to a woman's gross pear-shaped body, or the pear itself?
"So Again our Apology. for all the women out there."
Apparently, the parent company really needs to start reviewing the advertising they allow their brand to be represented on. This pear ad may have gotten the internet's attention, but it's far from the most offensive ad on the franchise's page.
Oh, yes. Inside every fat woman is a fit woman in a sports bra and boy shorts literally trying to kick her way out. Fuck off.
We'll crop our selfies however we damn well please, thankyouverymuch.
The dryer's not shrinking your clothes, dummy. You're just fat. Get it?
The brand has responded on Twitter, sort of. They have yet to issue a public apology, but are responding individually.
And they're responding on Facebook with this copy/paste apology:
The brand is distancing itself from the fat-shamey ads, but you have to wonder how they could be completely unaware of the marketing of their franchises. The fact is, Gold's Gym has had problematic ads for a long time — thankfully not reflected on their website or Facebook pages now, as they seem to be moving more toward inspiration rather than shame. But a quick look for some archived ads, and the results were pretty depressing.
According to Jack Fund Creative, the following ads were created "to help make Gold's Gym more approachable without disenfranchising its core audience… The work increased franchisee participation by 43%, was called "the best advertising program in the health and fitness industry" by IHRSA, and won awards in Communication Arts, One Show, Cannes and Los Angeles Beldings." Here's what that "award winning" advertising looked like:
In 2009, the brand created the campaign, 'Say No To Cankles." How clever. From Ad Week, "The effort includes ads that read: "Friends don't let friends get cankles," as well as Facebook applications, which allow consumers to send muffin tops and cankles to their friends as gifts." How sweet.
There is a lot that goes into brainstorming, curating, and executing these ads. The pear ad looks pretty amateur, and may very well have been crafted by some dude in photoshop — with Gold's Gym being completely unaware. But the rest of these look like professional campaigns — and it's hard to believe the brand knows nothing about them.
UPDATE: Gold's Gym responded to our request for comment with the following:
First off, Please know that we would like to apologize for the actions and behavior of this independent Franchise location in Egypt. Once this issue was brought to our attention, we immediately attempted to contact the independently-owned and operated Gold's Gym in Egypt to get their posts removed. We assure you that their posts do not reflect the views of Gold's Gym. It goes against our values and our mission which is to help all people achieve their potential through fitness. At this time we have been in communication with the main ownership group in Egypt about the status of this franchisees agreement.
This article was originally published on