GOOP Is Trolling Us With This $135 Coffee Enema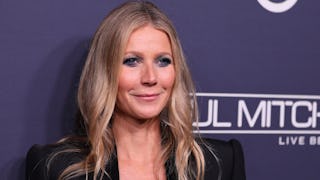 Image via JB Lacroix/ WireImage/Getty Images
Coffee enemas for health — brought to you by GOOP
Have you ever wondered what your morning cup of Joe would feel like if you squirted it into your butt? Well, for those of us who have, lifestyle "expert" Gwyneth Paltrow and her GOOP troop are here to make dreams come true — with the Implant O'Rama at-home coffee enema.
GOOP's annual detox guide came out last week and if you missed it, in addition to spraying coffee up your bum, there are a few other doozies designed to "supercharge your detox."
For instance, for a mere $68 you can rub organic body oil all over yourself. It says you can "use alone, or incorporate into your dry brushing ritual," but it's called a "body oil" so am I supposed to brush my body? Is that a thing now? When did this become a thing? I have so many questions.
There's also some $22 mascara (though it's unclear how this helps you detox) and of course a $4,099 two-person sauna, because it's GOOP. But let's get back to the coffee in the colon, I say while my own butthole puckers and retracts fully up inside my body out of sheer terror.
The Implant O'Rama is a $135 glass bottle that comes with a squeeze pump and two silicone catheters, which "allows the liquid to be pushed in with a small amount of force, delivering the liquid to areas higher in the colon."
Oh dear God.
Colonics have been around for years and are used as a way to hydrate and irrigate your colon. According to the Implant O'Rama website, "Coffee enemas can mean relief from depression, confusion, general nervous tension, many allergy-related symptoms and, most importantly, relief from severe pain."
But according to the National Institutes of Health, "There isn't any convincing evidence that detox or cleansing programs actually remove toxins from your body or improve your health," and "may have side effects, some of which can be serious."
If you're still intent on trying it but have concerns about, well, coffee in your butt, have no fear. The Implant O'Rama's website has a coffee enema song on their site, presumably meant to help relax your anus so the tube can be properly inserted.
Seriously, I wish I were joking:
GOOP has to be trolling us. Except knowing them, they're definitely 1000 percent serious.
And since Gwyneth and Friends already gave us a quartz egg to shove up our vag, the at-home coffee enema is simply the next logical step. Though perhaps this seems like a good one to leave to the experts. Or skip altogether.
Or you could just set your money on fire — to each their own.
This article was originally published on