GOOP's Holiday Gift Guide For Lovers Is Hilariously Unsexy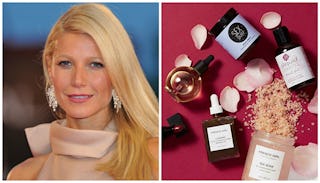 Image via Getty/ GOOP
The GOOP Holiday Gift Guide for Lovers — what would you choose?
Every year the GOOP gift guide comes out around the holidays to remind us commoners there are people all around us who have money and spend it on ridiculous shit. This year did not disappoint!
We were so busy focusing on the $8,000 yurt and the $3,000 leather bike that we totally missed an entire section for lovers! The creative genius behind GOOP aptly named the section The Lover Gift Guide — and it's weird. As hell. You know the feeling you get when you hear someone call their lover, "lover?" Yeah. It's that. In gift guide form.
Let's jump in!
"Fur Oil is made with grapeseed and jojoba oils, both dry touch oils with vitamins A and E to soften and condition; tea tree oil with antimicrobial properties that help clear pores and minimize ingrowns." Yup, this has "sex" written all over it. The no-nonsense packaging (FOR PUBIC HAIR) is almost as romantic as the thought of putting burning tea tree oil near your vagina.
"Hand-knit from luxuriously soft and pure highland wool, and filled with a U.S.-grown buckwheat hull pillow insert, this is the breast-shaped throw pillow you've been waiting for all your life." HUH? Not even on my worst, post-breastfeeding days did my boobs morph into one square unit. What is this?
The caption just reads, "Bang plates. Get it?" Nope. I hate not getting jokes.
Seletti Toilet Paper Little Butt Table, $416.25
Here we have a table with a photo of a two of spades shoved into a butt. It is $416.25, which is random, but not as random as suggesting a table made for holding toilet paper is a good gift for your lover.
Here we have one earring. "A single accent earring (very cool paired with another yellow-gold or ruby piece) that delicately brushes against your neck." This would be very cool paired with another earring (because who the fuck wears only one earring), but we're not giving that to you! Enjoy!
Membership to an elite sex club, no one knows the price
"Snctm is comprised of respectable individuals from all walks of life, dedicated to enriching our Grand Playground… Members are granted access to our infamous Member Lounge at the Masquerade, experiencing decadent indulgences many will never know… Dominus members undergo an initiation swearing a blood oath…" What the hell did I just read? Merry Christmas, honey! I bought you an orgy with a bunch of rich people in weird masks! There's actually a video that gives you a "glimpse" into how the other half gets their freak on in the membership section of the site. I think Carrot Top is there? I don't even know.
It's like the high tables from the cocktail reception portion of your wedding came to life and draped themselves over your body. "Body flattering and exquisitely made, this is a piece you'll keep forever." I don't know a woman whose boobs wouldn't immediately flop out of this thing, but hey — that could be sexy! Sort of.
"Sex Dust™ is a lusty edible formula alchemized to ignite and excite sexy energy in and out of the bedroom." It's "especially good with nut milk." Yum. Who needs champagne when you can have a giant glass of almond milk with this crap stirred into it?
It's all so lovely — it's almost impossible to choose! I think I have it narrowed down to getting screwed by Carrot Top in front of a bunch of strangers, the extreme discomfort of tea tree oil on my vulva, or a seriously unflattering nightgown, because romance.
This article was originally published on