Gordon Ramsay And Wife Tana Welcome Baby Number 5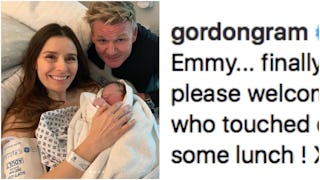 Image via Instagram/Gordon Ramsay
Baby Oscar joins his four older siblings who must be over the moon
Gordon Ramsay and his wife, Tana, had some brilliant news today to share with fans when he announced the birth of their fifth child, son Oscar. The news is especially bittersweet after the couple announced a late-term miscarriage three years prior.
The proud parents revealed that they welcomed a baby boy who they named Oscar. "After 3 baftas and one Emmy… finally we have won an Oscar, please welcome Oscar James Ramsay, who touched down at 12:58 today for some lunch!" he wrote on Instagram. Oscar joins his four older siblings Megan, 21, twins Holly and Jack, 19, and 16-year-old Matilda.
The Ramsays surprised family and friends on New Year's Day, revealing that Tana was pregnant. "Exciting news! Happy New Year from all the Ramsays," the caption read. In the video, all four adorable Ramsay kids shout "Happy New Year" before the camera pans to Tana's belly. Ramsay's voice can be heard from behind the camera, saying "Guess what? Happy New Year because we've got another one coming! Oh my lord!"
Ramsay is best known as a no BS gourmet chef, restaurant owner, and author who seems entirely unapproachable. But when he's around his family, you can tell he's probably just a big teddy bear at heart. "My wife, a schoolteacher, very disciplined. If you think I'm tough, trust me, and wait till you see when the children are on the naughty step," he once said of Tana. "It's hilarious."
The couple was very open about a miscarriage they had in 2016 when Tana was five months pregnant. In a post on Facebook, the 49-year-old father told fans that they had a "devastating weekend." Explained Ramsay, "Tana has sadly miscarried our son at five months. We're together healing as a family, but we want to thank everyone again for all your amazing support and well wishes."
He included a photo of himself and his wife together after a Triathlon the year before and thanked everyone for their love, adding, "I'd especially like to send a big thank you to the amazing team at Portland Hospital for everything they've done."
Family has always been the backbone of Ramsay's life. During an appearance on The Jonathan Ross Show, the father of four said: "Tilly, Tana and myself took Jack down to the college last week. Man that was hard. We put him in his little room, left him some fettuccine and pasta for him to cook, student food. Left him there and I got in the car and I was a mess. My best mate has just left me. And then the next day we put Holly into University. I was like, 'Man this is tough!'"
Lucky for Ramsay, he's now got a little bundle to look after for the next 18 years (or a lifetime, let's be honest). Congratulations to this new, and obviously overwhelmed with joy, family of five.
This article was originally published on