Gordan Ramsay And Wife Tana Are Expecting Their 5th Child After Miscarriage
by Valerie Williams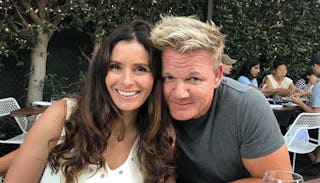 Image via Instagram/Gordon Ramsay
Gordon Ramsay and his wife Tana are expecting their fifth child after a devastating miscarriage
Celebrity chef and doting dad Gordon Ramsay shared that he and wife Tana are expecting their fifth child. The couple posted the cutest video on Ramsay's Instagram account and let their four kids help in spreading the wonderful news.
"Exciting news! Happy New Year from all the Ramsays," the caption reads. Then, each of the couple's four kids, 21-year-old Megan, 19-year old twins Holly and Jack, and 17-year-old Matilda, shout "Happy New Year" before the camera gets to a gleeful Tana, who shows off her baby bump.
Then, Ramsay's adorably excited voice can be heard from behind the camera. "Guess what? Happy New Year because we've got another one coming! Oh my lord!"
The family's happy announcement comes just after Ramsay wished New Year's twins Holly and Jack a happy birthday in a very sweet post. "Happy Birthday Jack & Holly 19yrs ago today you both popped out early and screwed up our party !!!! Tonight enjoy your birthday…. love dad," Ramsay wrote.
The news that the Ramsays are having another baby is a bit bittersweet, as they experienced a heartbreaking loss in 2016 when Tana was five months along with their son.
"We had a devastating weekend as Tana has sadly miscarried our son at five months. We're together healing as a family, but we want to thank everyone again for all your amazing support and well wishes," Ramsay shared on his Facebook page.
Any pregnancy is nerve-wracking but a pregnancy after a loss is a special brand of scary. The couple didn't share their due date, but hopefully, they're well past the first trimester and able to enjoy the excitement of their impending new addition. Though as someone who's also experienced a pregnancy loss, I know it's hard to ever fully relax. The worry will always be there.
Luckily, this sweet family seems to support each other through it all. We can't wait to hear that the newest Ramsay has entered the world.
This article was originally published on