Gordon Ramsay's Honest Post About Miscarriage Encourages Others To Share Their Stories
by Ashley Austrew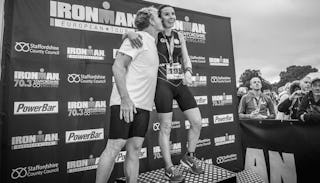 Gordon Ramsay and his wife, Tana, just revealed they suffered a miscarriage
Gordon Ramsay is best known for his television persona as a tough-talking gourmet chef, but over the weekend he broke character to let fans know he and his wife had suffered a heartbreaking loss: the miscarriage of their unborn child.
In a post on Facebook, the 49-year-old father of four wrote that he and his wife, Tana, had a "devastating weekend." Explained Ramsay, "Tana has sadly miscarried our son at five months. We're together healing as a family, but we want to thank everyone again for all your amazing support and well wishes."
He included a photo of himself and his wife together after a Triathlon last summer and thanked everyone for their love, adding, "I'd especially like to send a big thank you to the amazing team at Portland Hospital for everything they've done."
Ramsay's post immediately resonated with hundreds of fans who've suffered similar losses. Over 41,000 people liked the post, and nearly 6,000 left comments thanking the couple for being open with their grief and sharing their own struggles with loss and infertility.
Wrote one woman, "Our thoughts and prayers are with you both. We understand the pain you are enduring. We lost a son at 23.5 wks in 2001, we lost a daughter at 21.5 weeks in 2007, and we lost a son at 21.2 wks in February this year… Thank you for discussing this publicly as many will not due to so many others discomfort when it comes to infant loss."
Another said, "I know your pain. I've walked that path more times than I'll admit in public. I currently 21 weeks along with a daughter. My last chance for a baby. The fear of losing her is everyday. The threat doesn't end at 3 months for some of us. My heart goes out to your family."
While Ramsay and his wife aren't the first to go public with their experience of miscarriage, their openness in speaking on such a tough subject is certainly appreciated. According to the American Pregnancy Association, between 10 and 25 percent of all clinically recognized pregnancies will end in miscarriage. Despite those numbers, it's still rare for people to discuss their loss and to grieve openly with family and friends.
Ramsay's post was a means of letting fans know about a terrible personal tragedy, but as the response shows, it also became a place for healing, vulnerability, and support for so many people. Gordon and Tana may not have realized it when he wrote his post, but in sharing their story they gave voice to pain and loss that so many people experience, and they let so many others know they aren't alone. In sharing our stories, there is healing, and the Ramsays were very brave to start that conversation and open so many hearts.
This article was originally published on