XOXO! 70+ Gossip Girl Quotes To Get You Hype For The HBO Max Reboot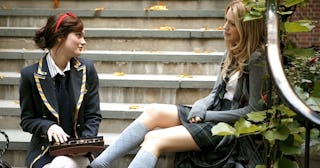 CBS
Let us set the scene. The year is 2007. You're probably wearing a Von Dutch t-shirt with your favorite Soffe shorts (rolled to oblivion, natch), or maybe a lace cami paired with hip huggers and your "customized" Converse (you know, the ones you drew all over with a Sharpie). But regardless of what you were wearing, you were definitely watching the hot new CW teen series Gossip Girl — and memorizing all of the witty lines so you could whip them out in casual conversation. And with an HBO Max reboot of the series now a reality, we decided there was no better time to bask in all of the circa early-'00s-feels with an expertly curated collection of Gossip Girl quotes. Blair Waldorf, Serena van der Woodsen, Dan Humphrey, Nate Archibald, and Chuck Bass… the gang's all here! Bring on the delicious teen drama.
Of course, we'd be remiss not to mention the titular narrator, Gossip Girl, played oh-so-sharply by the inimitable Kristen Bell. We've got Gossip Girl quotes from "your one and only source into the scandalous lives of Manhattan's elite" as well. Admittedly, Blair Waldorf gets more space in this article than anyone else because, let's face it, Blair had the best one-liners in the history of teens onscreen. She elevated being petty to an art form and made high school histrionics delightfully fun.
So, keep reading from some pro-level snark. As for us, we're off to re-binge-watch the series again. How many times have we seen the show in its entirety, you ask? That's one secret we'll never tell. XOXO, Scary Mommy.
Best Gossip Girl Quotes
Blair Waldorf
"I'm not a stop along the way. I'm a destination."
"Three words. Eight letters. Say it and I'm yours."
"If you're going to be sad, you might as well be sad in Paris."
"Once men have tasted caviar, it baffles me how they settle for catfish."
"Whoever said money doesn't buy happiness didn't know where to shop."
"We're sisters. You're my family. What is you is me. There's nothing you could ever say that would make me let go."
"You can't make people love you, but you can make them fear you."
"Haven't you heard? I'm the crazy bitch around here."
"Hilary Clinton is one of my role models. I do not break treaties, you ass!"
"Can you make sure they don't seat me behind Caroline Kennedy? She may be American royalty, but she's a giraffe."
"If you really want something, you don't stop for anyone or anything until you get it."
"The only thing lamer than dating Dan Humphrey is mourning Dan Humphrey."
"Here's my advice. Have a little faith, and if that doesn't work, have a lot of mimosas."
"I would be in my cabana at the Hotel de Cat, and there he would be. Amid all the fireworks on Bastille Day, all I could see what that… Chuck Bass-tard."
"Nate can't wait to see you. Trust me, it's like riding a very cute bike."
"A hot lifeguard is like Kleenex — use once and throw away. You could ask for a better rebound!"
"Don't go all Notebook on me. Not now. I need you."
"I have an idea for you: quit. Your boss is a bitch. Let's go to lunch."
"Destiny is for losers. It's just a stupid excuse to wait for things to happen instead of making them happen."
"He ended up treating me like something he owned instead of something he earned."
"We're not servants to our emotions. We can control them, suppress them, stomp them out like bugs."
"You need to be cold to be a queen."
Serena van der Woodsen
"Don't let people tell you who you are. You tell them."
"I didn't come back for you."
"I'll just stay home, eat lots of gelato, and write about how true love is nothing but a myth."
"I'd ask you how you are, but I don't really care."
"You know my mom: If it's not broke, break it."
"There's something vibrating in your pocket, and I really hope it's your phone."
"I hate that stupid headband."
"I remember everything you've read to me. In case you haven't noticed I don't really let go of things so easily."
"I like the way I feel when he looks at me. Like I wanna believe in myself."
"Earn the spotlight on your own merits. You'll feel better."
Dan Humphrey
"Even if it's the biggest kamikaze disaster of my life, it's my disaster."
"You are no one until you're talked about."
"When Prince Charming found Cinderella's slipper, they didn't accuse him of having a foot fetish."
"I don't read Gossip Girl. That's for chicks."
"Google 'revenge' and you get BlairWaldorf.com."
"So, actually, I'll be living out my nightmare. Trapped in the city with only Blair Waldorf to talk to."
"She doesn't know me. Nobody knows me. It's cool. It's fine."
"Yeah, well, your fashion emergency was solved so I figured my work was done."
"I think they're just trying to make sure we're a sane, stable couple. I guess they've had some trouble in the past. Apparently, Padma Lakshmi and Salman Rushdie broke up during their stay, and it caused all kinds of drama."
"I need your photographic memory and your passion for social upheaval to help me write the book about the Upper East Side. The book I should have written from the beginning."
Nate Archibald
"You can't fight against who you are."
"You gonna strangle him with your scarf?"
"You don't just give up because things are hard."
"You know it's love when you start talking like an assassin."
"I just want to be the person you can bring anything to."
"Do not knock The Sound of Music. It's got guns and Nazis. And Julie Andrews is hot."
"Affairs with married people, threesomes — it just so happens everyone's problems are within my area of expertise."
"I just don't get it. I organized everything the way she likes it. I mean, I even made sure my bowtie matched her dress."
"Listen, there's nothing wrong with keeping your options open. I don't think your parents are going to be mad at you for choosing your own path. Unless… they're related to my parents."
"Look, I know things. I've been to Europe. Chuck Bass is my best friend."
Chuck Bass
"People like me don't write books. They're written about."
"The next time you forget you're Blair Waldorf, remember I'm Chuck Bass. And I love you."
"We always knew it was one of us."
"Life with you could never be boring."
"Either switch that thing off or bring it to bed. Vibration is a terrible thing to waste."
"Let's catch up. Take our clothes off. Stare at each other."
"I'm honored to be playing even a small role in your deflowering."
"I'll find another way to save my family legacy. One that doesn't involve you."
"Don't mock the scarf, Nathaniel. It's my signature."
"My impulsive tendencies have no place in my life as a legitimate businessman."
Gossip Girl (the Narrator)
"Gossip Girl here, your one and only source into the scandalous lives of Manhattan's elite."
"Spotted: Lonely Boy's rude awakening. Upper East Side queens aren't born at the top. They climb their way up in heels, no matter who they have to tread on to do it."
"Some might call this a fustercluck. But on the Upper East Side, we call it Sunday afternoon."
"Spotted: Chuck Bass losing something nobody even knew he had — his heart."
"There's a weak link in every chain, and it's just a matter of time before this one snaps."
"One thing about being on the top of the world? It gives you a long, long way to fall."
"A wise woman once said that every morning when you wake up you say a little prayer. After all, you never know what your day may hold."
"Nothing says January like a brand new Cold War."
"Napoleon once said that secrets travel fast in Paris. But Gossip Girl travels faster. Bisou bisou."
"We know you love me. XOXO, Gossip Girl."
This article was originally published on