Grandma Accidentally Texts A Stranger About Thanksgiving, Now He's Invited
by Jerriann Sullivan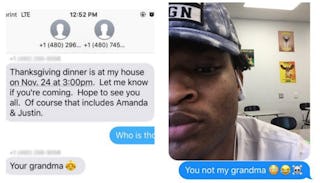 Image via Twitter
Grandma texted the wrong person about Thanksgiving but said she'd have a plate for him
Ah, Thanksgiving. The holiday where we eat ourselves into mild comas and avoid throwing stuffing at our least favorite relatives. While everyone is preparing for the holiday, one grandma is becoming an internet sensation after accidentally texting a teen about her family's plans for turkey day.
Jamal Hinton is 17-years-old who lives in Phoenix, Arizona. He received a text message the other day with an outline of when and where his family was meeting to celebrate Thanksgiving. The only problem – it wasn't his family. Since he didn't recognize the number he asked the sender to text a picture and, well, you have to see the hilarity.
Right off the bat you can tell this isn't an ordinary grandma, but a cool g-ma thanks to her fluency in emoji. Don't you love her sassy reply? "Your grandma." Like, duh. Hinton told BuzzFeed News he thought it was his grandmother texting him, but to verify, he asked for a photo.
Hinton laughed before sending her back a selfie that shows the two aren't related. But since he had made a new friend, Hinton figured he might as well confirm those Thanksgiving plans. You're going to love Your Grandma's reply, too.
"Of course you can," she wrote back. "That's what grandmas do." Doesn't that make you say, "awww." After all, that's what Thanksgiving is all about – coming together and celebrating all we've been given. "If I was invited to their Thanksgiving for real, yes, I would go," Hinton said. "I would consider us as friends!"
Hinton shared the hilarious exchange on Twitter so we could all give Your Grandma the proper respect she deserves.
As you may have guessed, people have already fallen in love with the still unknown lady.
So … can we come?
This article was originally published on