The Internet Loves How This Grandma Celebrated Her 98th Birthday
by Jerriann Sullivan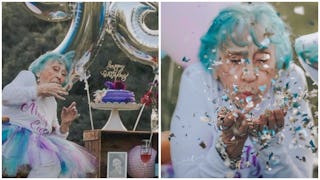 Image via Cara Lynn Photography
Cake, wine, and a brightly colored tutu helped Grams go viral
When it comes time to plan your 98th birthday party take some tips from this fun-loving grandma whose celebration photos have gone viral. Meet Grandma (Gladys, or Grams for short) and be prepared to be impressed.
Grams had everything a lady needs when celebrating a milestone birthday: cake, balloons, flowers, wine, a brightly colored tutu, and a fabulous attitude. "She is 100 percent girly-girl," Gladys' granddaughter Shannon Weikle told People. "She loves to look nice and get dressed up; I thought the photo shoot would be a fun way for her to commemorate the occasion." Indeed it was – just look at how much fun Grams had at her celebration.
The idea actually came from Shannon, who organized the special tutu, cake smash, and ensured there was wine one hand. "A lot of my friends are having babies and are either doing newborn photo shoots or smash cakes for their child's first birthday," Weikle, shared. "She's the person I do all these fun things with, and that's where the idea came in, and I wanted to do something special for her."
The fun-loving ladies even dyed Gladys hair blue for the big day. "I came over and I showed her the dye, and we just went to work," Weikle said. "When she saw herself, she was mortified!" Thankfully, the bright color grew on Grams.
To make sure the special occasion was captured, Weikle reached out to her friend Cara Lynn McGilvrey, a Maryland-based photographer. "Her bond with her granddaughter, Shannon, is beautiful," McGilvrey told Scary Mommy. " The photo session was just full of laughter and love!"
"I feel fortunate to have been able to photograph such a creative, spunky, gorgeous woman who will never settle for mediocracy," McGilvrey shared. "Gladys inspired me to stay young at heart and I'm so glad she is now able to inspire so many others."
Despite being an inspiration to many, Gladys was a bit nervous when it came time to take the photos on September 26. Thankfully, Weikle knew a little booze would help her relax. "I thought wine might be good because it would calm her nerves since she was a little nervous about getting her picture taken," Weikle explained. "We poured her a glass of wine to sip on and take pictures with, and then she just chugged it—she was pretty excited when we drove home!"
This isn't the first time these ladies have celebrated Gladys birthday in a unique way. When she turned 95, the women got matching maple leaf tattoos on their wrists. And of course, they're already thinking about the best way to ring in 100. Weikle hopes she can convince Grams to go skydiving. Whatever they decide to do, thankfully for us Grams will likely have her favorite photographer there to document the occasion. "I can't wait to see what they plan for her 99th birthday," McGilvrey said. "She is exactly who I want to be when I grow up. We should all aspire to be more like Gladys; young at heart!"
Gladys is pretty stoked folks liked the photos, too. "I'll read her the comments and she'll just giggle and can't believe so many people care about what she's doing," Weikle said. "She thought people would think she had gone crazy. Hopefully, this inspires people to realize they are never too old to do anything or to enjoy life."
This article was originally published on