Grandma Teaches Deaf Granddaughter How To Sign, Hearts Explode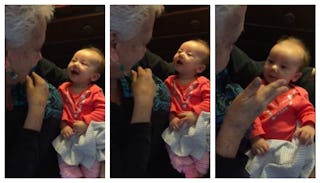 Image via Shari McMahon
Watching this grandma sign to her granddaughter will give you all the feels
Do you ever see something and think to yourself, "Gah, this is the sweetest thing I've ever seen?" Well, whatever that "thing" was, it won't be as cute as this. No, it's not even close so don't even try. Shari Joy McMahon's little baby girl, Aria is deaf. So is Aria's grandma, Pamela. When the two spent time together to get to know one another, the results were magical.
The video, posted to Shari's Facebook page, was taken when Aria was nine weeks old and captured a beautiful moment between the two. Pamela signed to her granddaughter and baby Aria looked up, completely engaged and beaming at her grandma. We aren't sure what Pamela is saying, but it's clear Aria is besotted with her. Pamela shows her a few signs and it looks like baby Aria is trying hard to sign back.
Seriously, we cannot get enough of this face!
First, let's be clear that Aria is one of the most adorable babies we have ever seen and her smile could melt steel. But it is the connection the two clearly share that really makes the video something spectacular. "Aria and I have moved out of state so they haven't seen each other since the video," Shari explains to Scary Mommy. "They have a special bond and my mom misses her so much."
Many families choose to teach their hearing babies and young children to sign. According to babysignlanguage.com, most babies are developmentally ready to understand signs at around four months old, but won't be able to sign back until around eight or nine months of age, when their coordination improves. Signing allows all babies to communicate earlier and can reduce tantrums caused by their inability to verbalize what they want. It has also been shown to have a range of cognitive benefits, "including a higher IQ, better grades in school, and a larger vocabulary."
"Aria is almost 5 months old now and she hasn't been signing lately but always 'listens' intently to people signing to her," McMahon tells Scary Mommy. "She is fifth generation deaf in our family. Almost every member of our family is deaf."
It sounds like baby Aria will have a lot of people around her to help her learn to sign. We are sure when grandma and granddaughter finally do get back together again, they won't skip a beat. Though with a smile like that, it's going to take all of her concentration not to sit and just stare at her instead.