A Grandma's Guide: 25 Acts Of Holiday Kindness You Can Do During the Pandemic
by Katie Cloyd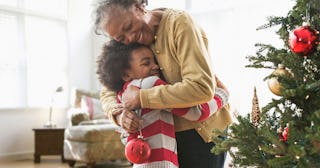 Jose Luis Pelaez Inc/Getty
Y'all. 2020 is almost over. In just a few weeks, we will welcome a new year. A woman will finally be second-in-command! A COVID vaccine is coming, and results look promising. We might actually get to do some normal stuff late next year. I am so hopeful for 2021.
But we still have almost a month left in 2020, and it just so happens to be a month packed full of holidays. The pandemic means a lot of our traditions will have to be adapted or postponed, but one thing we don't have to do is set aside our desire to spread holiday kindness and happiness to the people in our lives and communities.
My mom loves a list. She can think of 101 ways to do just about anything. This year, she sent our family a list of 25 pandemic-safe ways to spread some holiday kindness during this season. I couldn't imagine keeping it to myself!
If you're looking for low or no contact ways to show people that there is still a lot of beauty in the world, even during the weirdest year in history, look no further. My mama's got you covered.
Here are twenty-five of her magical suggestions—and many of them are totally free!
1. Write out holiday cards with greetings from your family.
Drop them off at your local nursing home. Include a few drawings and artwork from the kids!!
2. Bake a few dozen cookies.
Deliver them to your neighborhood Fire or First Aid station. Be sure to include a note of thanks and appreciation.
3. Go caroling "ding dong ditch" style.
Ring the bell, run onto the front lawn, and be prepared to sing a few carols from afar when they open the door. (You can even go with friends as long as each household drives their own car and you stand on opposite sides of the yard!)
4. Help the senior citizens in your life get set up with the technology they need to use Facetime or Zoom.
Call them to explain over the phone, be very patient, and take whatever time is necessary to explain how to keep in contact with their loved ones.
5. Use a delivery service to have a small order of goodies sent to a friend who is working remotely or quarantined.
Try to include at least one hard to get item, like toilet paper, cleaning wipes or a seasonal treat!
6. Offer to help a busy neighbor hang their outside Christmas lights.
Be sure to mention you will be back to help take them down after the New Year!
7. Post a glowing review on social media about your favorite small business.
Be sure to post it publicly, then share it to community groups and your friends.
8. Plan a late-night virtual girl's night.
Send everyone a charcoal face mask ahead of time, apply them together, and let them do their magic while you talk about anything except your children.
9. Leave a greeting card under the windshield wiper of a parked car.
Anonymously wish the driver a happy holiday.
10. Pay for the drive-thru order of the person behind you in line.
Start a holiday kindness chain in the queue.
11. Rake leaves or shovel snow for an elderly neighbor or friend.
Smile and wave as they watch out the window.
12. Leave a small gift for your mail carrier in the mailbox.
Thank them for their unwavering service!!
13. Facetime the little people in your life and read them a bedtime story.
Tell mom and dad to take a short break while you virtually "babysit."
14. Send a ridiculous, hilarious selfie in a group text to your closest friends without warning.
Encourage them to send one back. Everyone gets to laugh when you don't take yourself too seriously.
15. Plan a "home break in" with the spouse/family member of a nurse or teacher in your life.
Bring your cleaning supplies, and give the house a once over when nobody is home!
16. Give your partner the morning off.
Walk the dog, feed the kids, make coffee and deliver it to the bedroom!
17. Spend an entire day giving truthful compliments.
Say nice things to the people you run into as you go along your way. Be sincere and smile.
18. Contact your local military base's family readiness office.
Ask them if they are aware of any places in your area accepting donations for children whose parents are deployed during the holidays.
19. Let someone who is shopping with children go first in line at the grocery store.
Nothing is more precious than the gift of time! Give a nod and a smile. Tell them they are doing a good job.
20. Tape a card with an extra-large cash tip to your front door the next time you have take-out delivered.
Thank the driver for working hard so you can be safe at home.
21. Keep a small bag of snacks, toiletries and disposable masks in your car.
Stop and give it to a person experiencing homelessness. Add a few dollars or a gift card to the bag if you can.
22. Call a friend or family member who you haven't spoken to for a while.
Ask them to catch you up on their life and REALLY listen!!
23. Contact your local juvenile detention center and ask them if the residents have created wish lists.
Kids are still kids, even if they have made mistakes. They deserve holiday kindness, too.
24. Send a calendar to your grandparent or other elderly family member.
Fill in all of the important dates like birthdays and anniversaries of family members. Send along a box of cards and a book of stamps, too. This will let them celebrate the people in their lives and stay home safely until the pandemic is under control.
25. Call your local animal shelter or rescue organization ask them what they need, or check their online wish list.
Leave the biggest bag of pet food you can afford on the front porch, along with a sincere note of thanks for the people who take care of our furry friends who are looking for families.
This list is just the tip of the iceberg! There are as many ways to be kind as there are people in the world! We might not be able to do the face-to-face volunteering we usually do. It's unwise to gather in our churches and community centers to distribute holiday care packages. We can't go caroling inside a nursing home, or deliver gifts to the children's hospital.
Those things will have to wait for next year (fingers crossed!) but we don't have to put holiday kindness on hold. There are plenty of ways to keep the holiday spirit alive.
Wear your mask, wash your hands, maintain your distance and have a the happiest of holidays!
This article was originally published on