Woman Records All Her Grandpa's Sweet Reactions When She Comes To His Door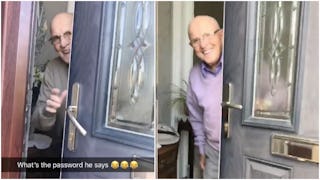 Images via Jen Barclay / Twitter
This viral Twitter video is going to make you want to hug your grandpa ASAP
Is there anything better than a sweet grandpa or grandma's excited face when they open the door to greet you for a visit? There's not. And if you disagree with that, we have adorable video proof.
Jen Barclay, a woman who lives in Scotland, starting dropping by her granddad's house and filming his reaction every time he opened the door and saw her. The result is a compilation video that will warm the chilliest of hearts.
It doesn't hurt that there's so much love just dripping from Barclay's tweet. In the video caption she writes, "My wee Grandad, 87 years young and he's my no.1 guy… I love him with all my heart. And I love recording his reactions when I come to visit. I hope everyone can appreciate the video I've made as much as I do."
We definitely appreciate it, though probably not as much as she does. This is a truly beautiful collection of memories that she will likely cherish for the rest of her life. That fact is not lost on the rest of Twitter, which has been feeling all the lovey feels watching this sweet video.
https://twitter.com/jetpack/status/1074246531883196416
https://twitter.com/jetpack/status/1074154677950763009
People were especially taken with Grandpa's sweet nicknames for his clearly beloved granddaughter.
Watching the way he opens the door only to have his face split into the same ear-to-ear grin each visit will surely bring a smile to your face, no matter how your day is going.
After receiving a ton of tweeted replies and messages asking about her grandpa, Barclay even came up with a way for us to keep following the adorable old gent on whatever adventures he may get up to: She made him his own Instagram account.
I usually try to stick to following dogs, but I have never hit "follow" so fast in my life.
Here's hoping we'll get to see more of that precious grandpa smile soon.