This Grandpa's Reaction To Seeing Lady Gaga In Concert Is Adorable AF
by Cassandra Stone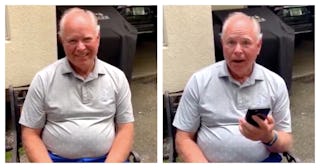 Twitter/@boybehindbricks
You will want to be adopted by this grandpa and go to the Gaga concert with him ASAP
If you don't absolutely love Lady Gaga at this point, are you even really a human being? She's talented and active and passionate enough to make a superfan out of anyone. Which is exactly what she's done here, with this incredibly adorable grandpa who apparently adores her. And honestly, can you blame him?
Twitter user Whitney shared a video of her 66-year-old grandfather being surprised with tickets to see Lady Gaga in concert during her Las Vegas residency next year. His reaction is one of the most pure, sweet, lovable things you will see on the internet all day.
"My grandpa's face when he found out we were seeing Lady Gaga," Whitney writes. "I can't he's so pure he loves her so much."
OH. MY. GAWD. Did you die? Because if you're not a puddle of gooey mush on the floor right now, I don't know what to tell you. First, kudos to this gentleman for having a more organized and reliable phone calendar than 99 percent of the population. Second, aren't grandpas just the best? He's so sweet it almost hurts.
But lastly, HIS FACE. OMG. When he realizes exactly what's happening in May of next year, the joy is so palpable it actually squeezed my cold, dead heart back to life.
Grandpa's name is Jim and his wife, Mary-Beth, is the one recording the video. His granddaughter, Whitney, tells Scary Mommy he's been a longtime Gaga fan. "He's just always really loved her music!"
Naturally, everyone on the internet shared their collective love for Grandpa Jim and his superfan status.
https://twitter.com/jetpack/status/1144948030015250432
https://twitter.com/jetpack/status/1144827844654174208
https://twitter.com/jetpack/status/1144909134556516353
It's an almost certainty that Merriam-Webster needs to place a GIF of Grandpa Jim on a loop saying "Gaga?" with his wide, excited eyes next to the word "pure." There is and never will be anything sweeter than those two seconds on film. Ever.
Lady Gaga's Las Vegas Residency began last December at the MGM Grand, and will continue through June of next year. The show, titled ENIGMA, features brand-new Gaga music plus a combination of her decade of popular hits. During the early weeks of her show, her A Star is Born co-star Bradley Cooper popped in to sing "Shallow" with her and pretty much make the entire lives of every single person in the audience.
While Bradley clearly adores Gaga, he's no Jim. And we can't wait to see a follow-up of Jim living his best life at the concert next spring.