How To Write A Gratitude List And Learn To Count Your Blessings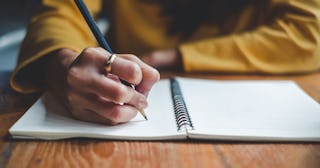 Nattakorn Maneerat/ Getty Images
I've been keeping a gratitude list ever since Oprah Winfrey introduced me to the concept way back when I was in high school. Two decades later, and it's still a part of my daily routine. So why keep a gratitude list? For starters, according to Harvard Health Publications, expressing gratitude is one of the easiest ways to feel better, including improving our sense of well-being and our relationships.
Other studies have shown that regularly expressing gratitude enhances both physical and mental health, including getting a good night's sleep and improving our self-esteem. This, coupled with journal prompts, will help you on the road to self-discovery. Sounds so good, right? If you're eager to start counting your blessings, here are some tips on how to write a gratitude list.
RELATED: 110+ Words of Encouragement To Get You Through A Difficult Time
Get A Journal
This needn't be a fancy investment. Any notebook or notepad will do. What matters most is that you keep your journal in a place that will compel you to jot down your list daily. A good place to keep it is right on your bedside so you can create your list before you go to sleep or as soon as you wake up in the morning.
Keep It Consistent
There aren't any set rules on how to use a gratitude list, which means you get to choose how many things you want to include on your list (though starting at five is a good start). It also means you can jot down your ideas at any time that works for you, including at lunch time or whenever your newborn goes down for a nap. However, what's important to keep in mind with your list is to keep it consistent. Consistency is the glue that keeps a new habit together. Without consistency, you're prone to procrastination or "leaving it" for another day. By staying consistent, keeping a gratitude list is more likely to become apart of your routine. Remember: even writing down one thing per day is better than nothing.
RELATED: 100+ Self Care Quotes To Soothe Your Mind, Body, And Soul
Make It Simple
Your gratitude list doesn't have to be complicated. If you're having trouble finding the gratitude in your life (we've all been there) start small and make it simple. Below are some examples to help get you started.
I have good health.
I have a roof over my head.
I sleep in a warm bed.
I have money in the bank.
I have good food in my fridge.
The sun is shining today.
I have a day off today.
I moved my body today.
I have a loving partner.
I have a pet who loves me.
I have a paying job.
I breathe fresh air.
I laughed today.
I drink clean water.
I have a smartphone.
I have access to the internet.
There are trees around me.
I read a book that I enjoy.
I have clean clothes to wear.
I have a family who loves me.
I have good friends I relate to and love.
I have a significant other who reminds me I'm not alone.
I have eyes that allow me to see the world's beauty.
I have ears that allow me to listen to music.
I have a nose that allows me to smell.
I have arms that allow me to hold things.
I have legs that give me the freedom to move.
I have a mouth that lets me taste delicious food.
I can talk.
I can make or buy morning coffee.
I have access to libraries with endless books that allow me to learn.
I have access to indoor plumbing and toilets.
I can take a hot shower.
I have a unique personality.
I have the strength to keep going when things get tough.
I have happy memories.
Learn more on how to stay inspired here.
This article was originally published on