'Grease' Pink Ladies Eyeshadow Exists And We Need It Immediately
by Thea Glassman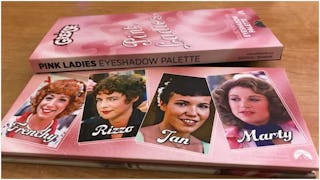 Image via Sola Look/Instagram
Grease-themed eyeshadow is about to be released. Danny Zuko sadly not included
It's been forty years since Grease hit the big screen, but it seems like just yesterday that we were in our childhood living rooms, lip syncing along to "Hopelessly Devoted To You," and feeling confusingly charged feelings for Danny Zuko (no? just me? okay cool). In celebration of this milestone, makeup brand Sola Look is releasing a Pink Ladies eyeshadow line that's guaranteed to make you want to tease your hair, buy a black catsuit, and get all the hickies from Kenickie.
The makeup brand has been pretty mum about when their new eyeshadow palette will be released but they did post a few sneak peeks of the product on Instagram. It's very cute, very bright, and – yes – very pink. Also, it's beyond nostalgic to see pictures of all the gals together again. You can practically hear the opening lines to "Look At Me, I'm Sandra Dee" spilling out of that palette box.
If you want to find out as soon as this eyeshadow is released, you can head to Sola Look's website and sign up for updates. Because, I mean, you don't want to go back to the first day of Rydell High without your makeup looking ~on point~.
In the meantime, there are plenty of other classic movie-themed makeup kits that you can get your hands on. Like hellooooo Dirty Dancing palette. This one also comes courtesy of Sola Look and if you wear that Baby colored lipstick you can guarantee that nobody is putting you in the corner.
Or, if you're feeling like throwing it back to Bayside High, you can go with the Saved By The Bell liquid lipstick trio. Screech is thankfully not included.
Here's hoping your makeup collection is about to get much, much more retro. Rizzo would wholeheartedly approve.